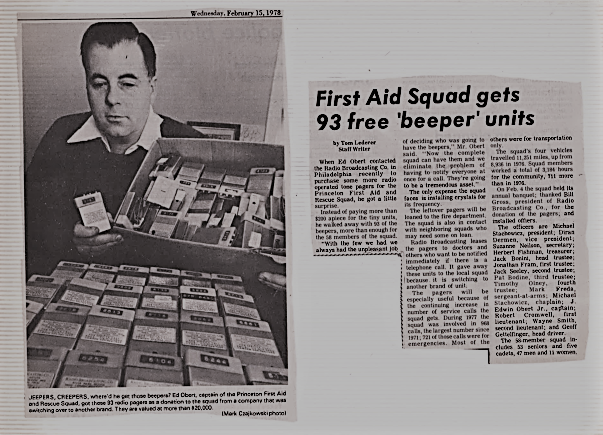 15 February 1978
First Aid Squad gets 93 free 'beeper' units

by Tom Lederer
Staff Writer
When Ed Obert contacted the Radio Broadcasting Co. in Philadelphia recently to purchase some more radio operated tone pagers for the Princeton First Aid and Rescue Squad, he got a little surprise.
Instead of paying more than $200 apiece for the tiny units, he walked away with 93 of the beepers, more than enough for the 58 members of the squad.
"With the few we had we always had the unpleasant job of deciding who was going to have the beepers," Mr. Obert said. "Now the complete squad can have them and we eliminate the problem of having to notify everyone at once for a call. They're going to be a tremendous asset."
The only expense the squad faces is installing crystals for its frequency.
The leftover pagers will be loaned to the fire department. The squad is also in contact with neighboring squads who may need some on loan.
Radio Broadcasting leases the pagers to doctors and others who want to be notified immediately if there is a telephone call. It gave away these units to the local squad because it is switching to another brand of unit.
The pagers will be especially useful because of the continuing increase in number of service calls the squad gets. During 1977 the squad was involved in 968 calls, the largest number since 1971 ; 721 of those calls were for emergencies. Most of the others were for transportation only.
The squad's four vehicles traveled 11,251 miles, up from 8,936 in 1976. Squad members worked a total of 3,184 hours for the community, 711 more than in 1976.
On Feb. 4 the squad held its annual banquet; thanked Bill Gross, president of Radio Broadcasting Co., for the donation of the pagers; and installed officers.
The officers are Michael Stachowicz, president; Diran Dermen, vice president; Suzanne Neilson, secretary; Herbert Fishman, treasurer; Jack Bonini, head trustee; Jonathan Fram, first trustee; Jack Seeley, second trustee; Pat Bodine, third trustee; Timothy Olney, fourth trustee; Mark Freda, sergeant-at-arms; Michael Stachowicz, chaplain; J. Edwin Obert Jr., cafftain; Robert Cromwell, first lieutenant; Wayne Smith, second lieutenant; and Geoff Gettelfinger, head driver.
The 58-member squad includes 53 seniors and five cadets, 47 men and 11 women.
---
Photo Caption:
JEEPERS, CREEPERS, where'd he get those beepers? Ed Obert, captain of the Princeton First Aid and Rescue Squad, got these 93 radio pagers as a donation to the squad from a company that was switching over to another brand. They are valued at more than $20,000.
(Mark Czajkowski photo)