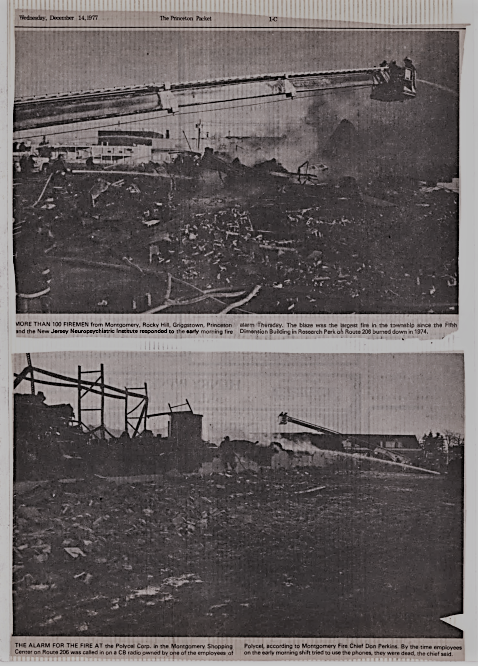 Princeton Packet
Wednesday December 14, 1977
Top Photo:
MORE THAN 100 FIREMEN from Montgomery, Rocky Hill, Griggstown, Princeton and the New Jersey Neuropsyciatric Institute responded to the early morning fire alarm Thursday. The blaze was the largest fire in the township sincce the Fifth Dimension Building in Research Park on Route 206 burned down in 1974.
Bottom Photo:
THE ALARM FOR THE FIRE AT the Polycel Corp. in the Montgomery Shopping Center on Route 206 was called in on a CB radio owned by one of the employees of Polycel, according to Montgomery Fire Chief Don Perkins. By the time employees on the early morning shift tried to use phone, they were dead, the chief said.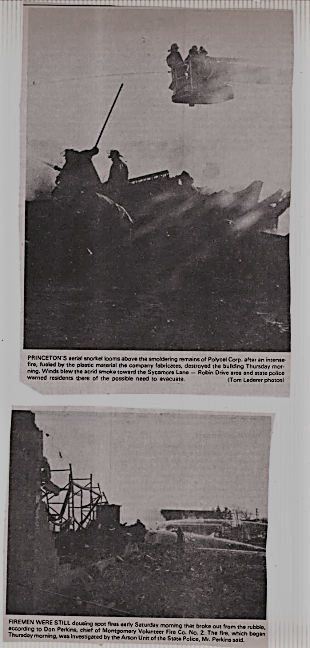 Top Photo:
PRINCETON'S aerial snorkel looms above the smoldering remains of Polycel Corp. after an intense fire, fueled by the plastic matieral the company fabricates, destroyed the building Thursday morning. Winds blew the acrid smoke toward the Sycamore Lane – Robin Drive area and state police warned residents there of the possible need to evacuate. (Tom Lederer photos)
Bottom Photo:
FIREMEN WERE STILL dousing spot fires early Saturday morning that broke out from the rubble, according to Don Perkins, chief of Montgomery Volunteer Fire Co. No. 2. The fire, which began Thursday morning, was investigated by the Arson Unit of the State Police, Mr. Perkins said.