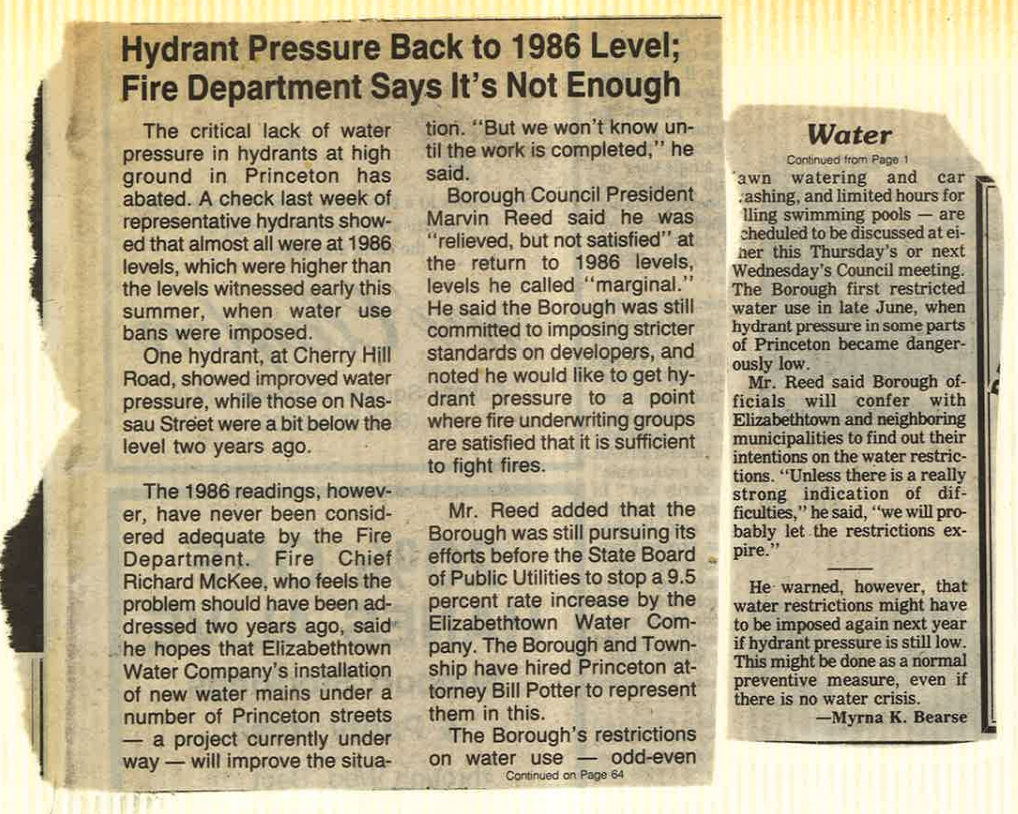 19 August, 1988
Hydrant Pressure Back to 1986 Level; Fire Department Says It's Not Enough
Myrna K. Bearse
The critical lack of water pressure in hydrants at high ground in Princeton has abated. A check last week of representative hydrants showed that almost all were at 1986 levels, which were higher than the levels witnessed early this summer, when water use bans were imposed.
One hydrant, at Cherry Hill Road, showed improved water pressure, while those on Nassau Street were a bit below the level two years ago.
The 1986 readings, however, have never been considered adequate by the Fire Department. Fire Chief Richard McKee. who feels the problem should have been addressed two years ago, said he hopes that Elizabethtown Water Company's installation of new water mains under a number of Princeton streets — a project currently underway — will improve the situation. "But we won't know until the work is completed," he said.
Borough Council President Marvin Reed said he was "relieved, but not satisfied" at the return to 1986 levels, levels he called "marginal:' He said the Borough was still committed to imposing stricter standards on developers, and noted he would like to get hydrant pressure to a point where fire underwriting groups are satisfied that it is sufficient to fight fires.
Mr. Reed added that the Borough was still pursuing its efforts before the State Board of Public Utilities to stop a 9.5 percent rate increase by the Elizabethtown Water Company. The Borough and Township have hired Princeton attorney Bill Potter to represent them in this.
The Borough's restrictions on water use 7- odd-even lawn watering and car washing, and limited hours for chilling swimming pools — are scheduled to be discussed at either this Thursday's or next Wednesday's Council meeting. The Borough first restricted water use in late June, when hydrant pressure in some parts of Princeton became dangerously low.
Mr. Reed said Borough officials will confer with Elizabethtown and neighboring municipalities to find out their intentions on the water restrictions. "Unless there is a really strong indication of difficulties," he said, "we will probably let the restrictions expire.
He warned, however, that water restrictions might have to be imposed again next year if hydrant pressure is still low. This might be done as a normal preventive measure, even if there is no water crisis.