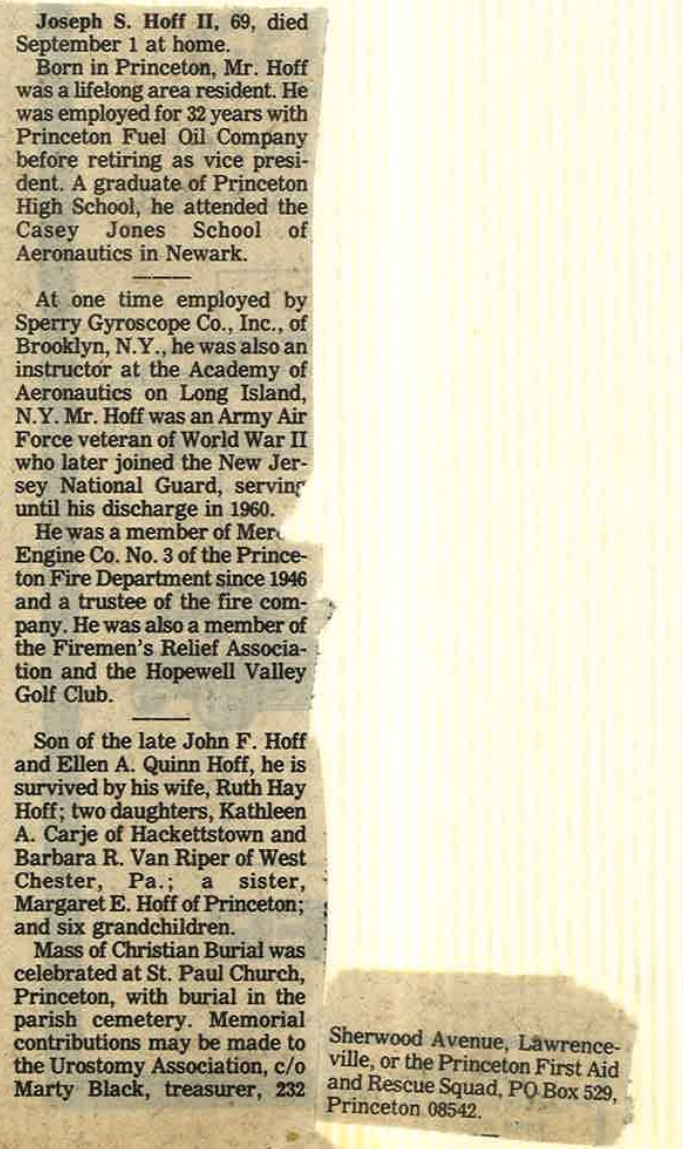 19 August, 1988 (~estimated)
Joseph S. Hoff II, 69, died September 1 at home.
Born in Princeton, Mr. Hoff was a lifelong area resident. He was employed for 32 years with Princeton Fuel Oil Company before retiring as vice president. A graduate of Princeton High School, he attended the Casey Jones School of Aeronautics in Newark.
At one time employed by Sperry Gyroscope Co., Inc., of Brooklyn, N.Y., he was also an instructor at the Academy of Aeronautics on Long Island, N.Y. Mr. Hoff was an Army Air Force veteran of World War II who later joined the New Jersey National Guard, serving until his discharge in 1960.
He was a member of Mercer Engine Co. No. 3 of the Princeton Fire Department since 1946 and a trustee of the fire company. He was also a member of the Firemen's Relief Association and the Hopewell Valley Golf Club.
Son of the late John F. Hoff and Ellen A. Quinn Hoff, he is survived by his wife, Ruth Hay Hoff; two daughters, Kathleen A. Cade of Hackettstown and Barbara R. Van Riper of West Chester, Pa.; a sister, Margaret E. Hoff of Princeton-, and six grandchildren.
Mass of Christian Burial was celebrated at St. Paul Church, Princeton, with burial in the parish cemetery. Memorial contributions may be made to the Urostomy Association, c/o Marty Black, treasurer, 232 Sherwood Avenue, Lawrenceville, or the Princeton First Aid and Rescue Squad, PO Box 529, Princeton 08542.