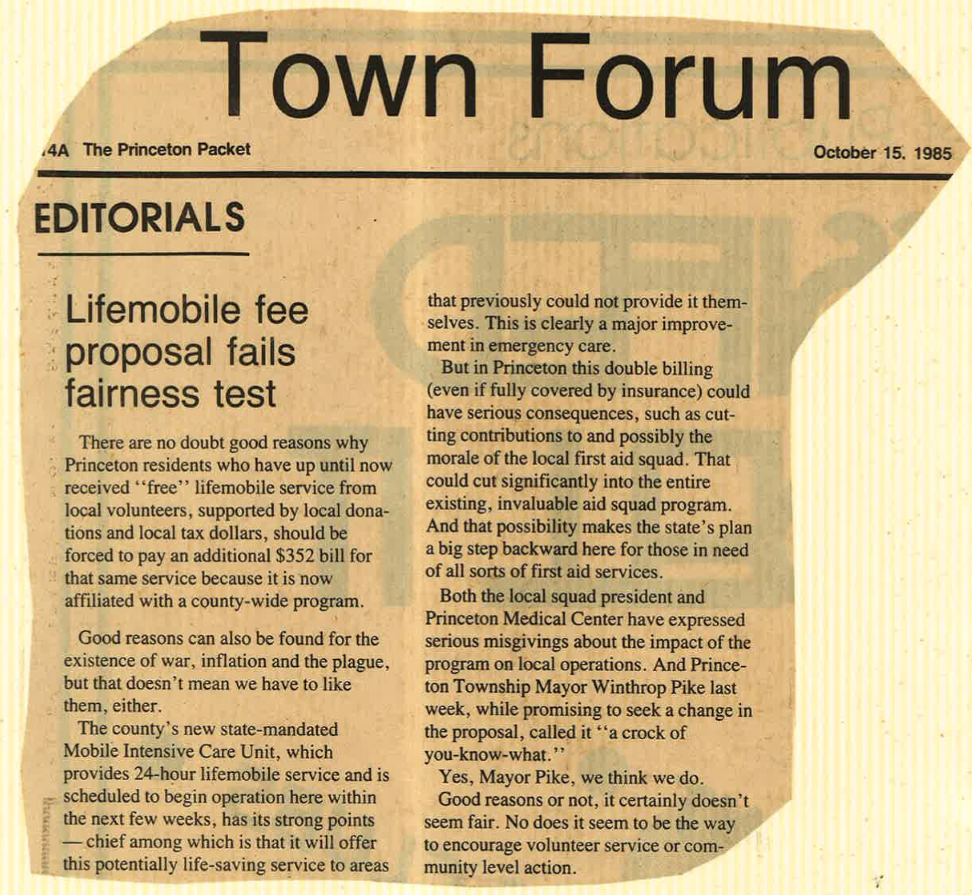 The Princeton Packet
15 October, 1985
EDITORIALS
Lifemobile fee proposal fails fairness test
There are no doubt good reasons why Princeton residents who have up until now received "free" lifemobile service from local volunteers, supported by local donations and local tax dollars, should be forced to pay an additional $352 bill for that same service because it is now affiliated with a county-wide program.
Good reasons can also be found for the existence of war, inflation and the plague, but that doesn't mean we have to like them, either.
The county's new state-mandated Mobile Intensive Care Unit, which provides 24-hour lifemobile service and is scheduled to begin operation here within the next few weeks, has its strong points — chief among which is that it will offer this potentially life-saving service to areas October 15, 1985 that previously could not provide it themselves. This is clearly a major improvement in emergency care.
But in Princeton this double billing (even if fully covered by insurance) could have serious consequences, such as cut-ting contributions to and possibly the morale of the local first aid squad. That could cut significantly into the entire existing, invaluable aid squad program. And that possibility makes the state's plan a big step backward here for those in need of all sorts of first aid services.
Both the local squad president and Princeton Medical Center have expressed serious misgivings about the impact of the program on local operations. And Princeton Township Mayor Winthrop Pike last week, while promising to seek a change in the proposal, called it "a crock of you-know-what."
Yes, Mayor Pike, we think we do.
Good reasons or not, it certainly doesn't seem fair. No does it seem to be the way to encourage volunteer service or community level action.