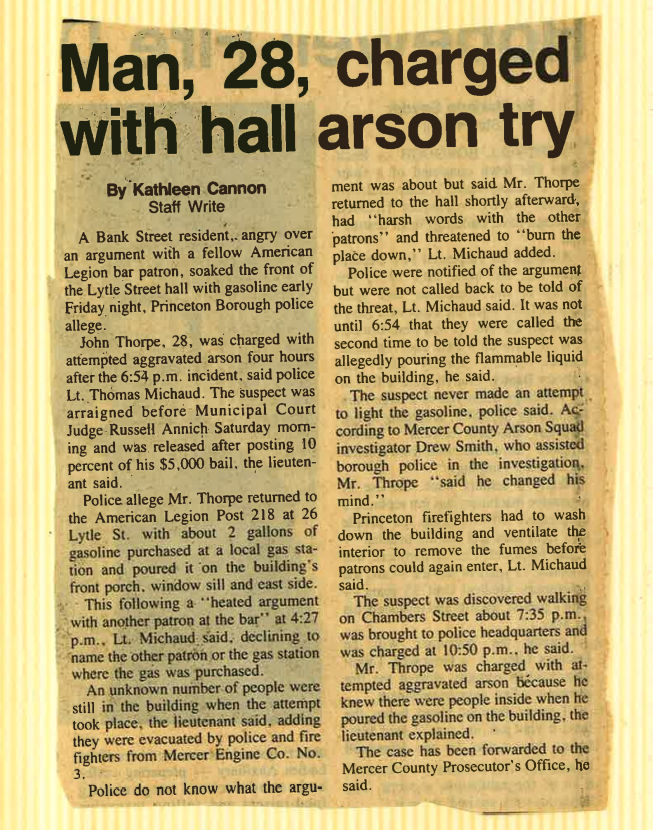 22 January, 1986 (~estimated)
Man, 28, charged with hall arson try 
By Kathleen Cannon 
Staff Writer 
A Bank Street resident, angry over an argument with a fellow American Legion bar patron, soaked the front of the Lytle Street hall with gasoline early Friday night, Princeton Borough police allege.
John Thorpe, 28, was charged with attempted aggravated arson four hours after the 6:54 p.m. incident, said police Lt. Thomas Michaud. The suspect was arraigned before Municipal Court Judge Russell Annich Saturday morning and was released after posting 10 percent of his $5,000 bail, the lieutenant said.
Police allege Mr. Thorpe returned to the American Legion Post 218 at 26 Lytle St. with about 2 gallons of gasoline purchased at a local gas station and poured it on the building's front porch, window sill and east side. 
This following a "heated argument with another patron at the bar" at 4:27 p.m., Lt. Michaud said, declining to name the other patron or the gas station where the gas was purchased.
An unknown number of people were still in the building when the attempt took place, the lieutenant said, adding they were evacuated by police and firefighters from Mercer Engine Co. No. 3. 
Police do not know what the argument was about but said Mr. Thorpe returned to the hall shortly afterward, had "harsh words with the other patrons" and threatened to "burn the place down," Lt. Michaud added. 
Police were notified of the argument but were not called back to be told of the threat, Lt. Michaud said. It was not until 6:54 that they were called the second time to be told the suspect was allegedly pouring the flammable liquid on the building, he said. 
The suspect never made an attempt to light the gasoline, police said. According to Mercer County Arson Squad investigator Drew Smith, who assisted borough police in the investigation, Mr. Thrope "said he changed his mind."
Princeton firefighters had to wash down the building and ventilate the interior to remove the fumes before patrons could again enter, Lt. Michaud said. The suspect was discovered walking on Chambers Street about 7:35 p.m., was brought to police headquarters and was charged at 10:50 p.m., he said. 
Mr. Thrope was charged with attempted aggravated arson because he knew there were people inside when he poured the gasoline on the building, the lieutenant explained. 
The case has been forwarded to the Mercer County Prosecutor's Office, he said.