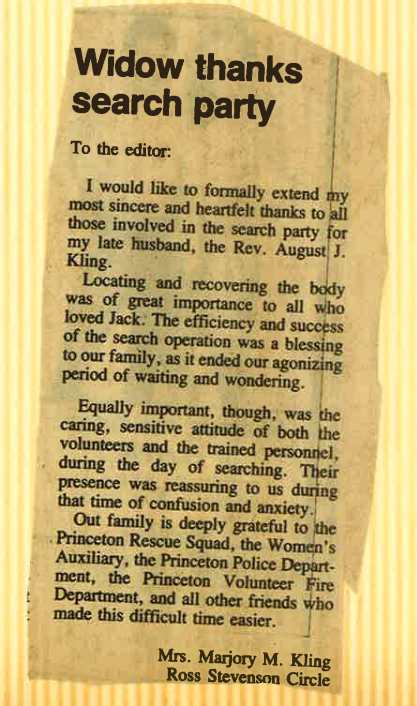 21 January, 1986 (~Estimated)
Widow thanks search party 
To the editor: 
I would like to formally extend my most sincere and heartfelt thanks to all those involved in the search party for my late husband, the Rev. August J. Kling. Locating and recovering the body was of great importance to all who loved Jack. The efficiency and success of the search operation was a blessing to our family, as it ended our agonizing period of waiting and wondering. 
Equally important, though, was the caring, sensitive attitude of both the volunteers and the trained personnel, during the day of searching. Their presence was reassuring to us during that time of confusion and anxiety.
Our family is deeply grateful to the Princeton Rescue Squad, the Women's Auxiliary, the Princeton Police Department, the Princeton Volunteer Fire Department, and all other friends who made this difficult time easier. 
Mrs. Marjory M. Kling
 Ross Stevenson Circle