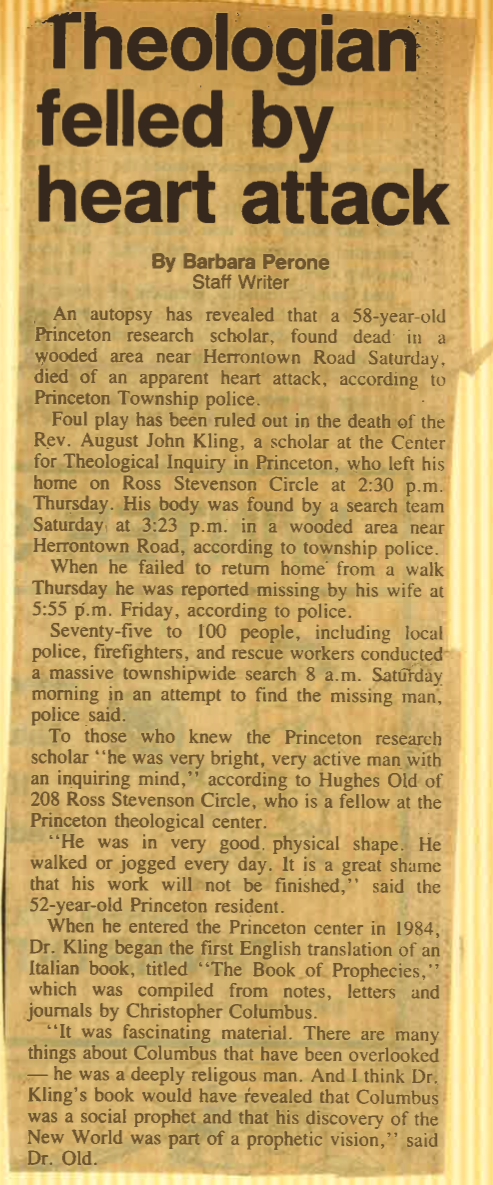 Princeton Packet
1 January, 1986
Theologian felled by heart attack
By Barbara Perone
Staff Writer
An autopsy has revealed that a 58-year-old Princeton research scholar, found dead in a wooded area near Herrontown Road Saturday, died of an apparent heart attack, according to Princeton Township police.
Foul play has been ruled out in the death of the Rev. August John Kling, a scholar at the Center for Theological Inquiry in Princeton, who left his home on Ross Stevenson Circle at 2:30 p.m. Thursday. His body was found by a search team Saturday at 3:23 p.m. in a wooded area near Herrontown Road, according to township police.
When he failed to return home from a walk Thursday he was reported missing by his wife at 5:55 p.m. Friday, according to police.
Seventy-five to 100 people, including local police, firefighters, and rescue workers conducted a massive townshipwide search 8 a.m. Saturday morning in an attempt to find the missing man, police said.
To those who knew the Princeton research scholar, "he was very bright, very active man with an inquiring mind," according to Hughes Old of 208 Ross Stevenson Circle, who is a fellow at the Princeton theological center.
"He was in very good, physical shape. He walked or jogged every day. It is a great shame that his work will not be finished," said the 52-year-old Princeton resident.
When he entered the Princeton center in 1984, Dr. Kling began the first English translation of an Italian book, titled "The Book of Prophecies," which was compiled from notes, letters and journals by Christopher Columbus.
"It was fascinating material. There are many things about Columbus that have been overlooked — he was a deeply religous man. And I think Dr. Kling's book would have revealed that Columbus was a social prophet and that his discovery of the New World was part of a prophetic vision," said Dr. Old.