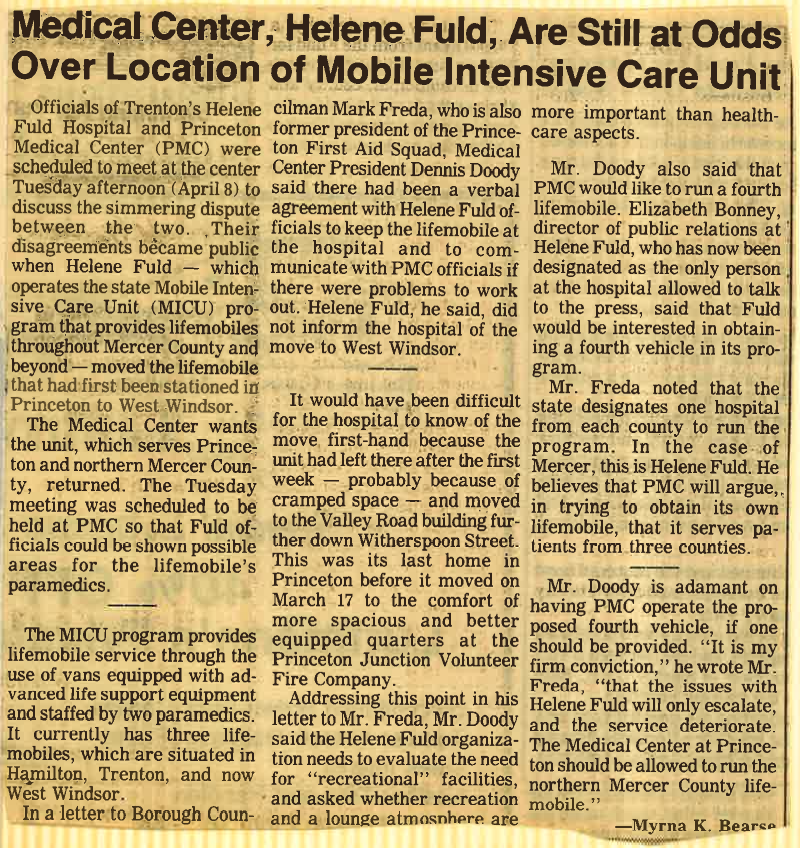 10 April, 1986 (~estimated)
Medical Center, Helene Fuld, Are Still at Odds Over Location of Mobile Intensive Care Unit 
Myrna K. Bearse
Officials of Trenton's Helene Fuld Hospital and Princeton Medical Center (PMC) were scheduled to meet at the center Tuesday afternoon (April 8) to discuss the simmering dispute between the two. Their disagreements became public when Helene Fuld — which operates the state Mobile Intensive Care Unit (MICU) program that provides lifemobiles throughout Mercer County and beyond — moved the lifemobile that had first been stationed in Princeton to West Windsor.
The Medical Center wants the unit, which serves Princeton and northern Mercer County, returned. The Tuesday meeting was scheduled to be held at PMC so that Fuld officials could be shown possible areas for the Iifemobile's paramedics. 
The MICU program provides lifemobile service through the use of vans equipped with advanced life support equipment and staffed by two paramedics. It currently has three lifemobiles, which are situated in Hamilton, Trenton, and now West Windsor. 
In a letter to Borough Councilman Mark Freda, who is also former president of the Princeton First Aid Squad, Medical Center President Dennis Doody said there had been a verbal agreement with Helene Fuld officials to keep the lifemobile at the hospital and to communicate with PMC officials if there were problems to work out. Helene Fuld, he said, did not inform the hospital of the move to West Windsor. 
It would have been difficult for the hospital to know of the move firsthand because the unit had left there after the first week — probably because of cramped space — and moved to the Valley Road building further down Witherspoon Street. This was its last home in Princeton before it moved on March 17 to the comfort of more spacious and better equipped quarters at the Princeton Junction Volunteer Fire Company. 
Addressing this point in his letter to Mr. Freda, Mr. Doody said the Helene Fuld organization needs to evaluate the need for "recreational" facilities and asked whether recreation and a lounge atmosphere are more important than healthcare aspects. 
Mr. Doody also said that PMC would like to run a fourth lifemobile. Elizabeth Bonney, director of public relations at Helene Fuld, who has now been designated as the only person at the hospital allowed to talk to the press, said that Fuld would be interested in obtaining a fourth vehicle in its program. 
Mr. Freda noted that the state designates one hospital from each county to run the program. In the case of Mercer, this is Helene Fuld. He believes that PMC will argue, in trying to obtain its own lifemobile, that it serves patients from three counties.
Mr. Doody is adamant on having PMC operate the proposed fourth vehicle if one should be provided. "It is my firm conviction," he wrote Mr. Freda, "that the issues with Helene Fuld will only escalate and the service [will] deteriorate. The Medical Center at Princeton should be allowed to run the northern Mercer County lifemobile."