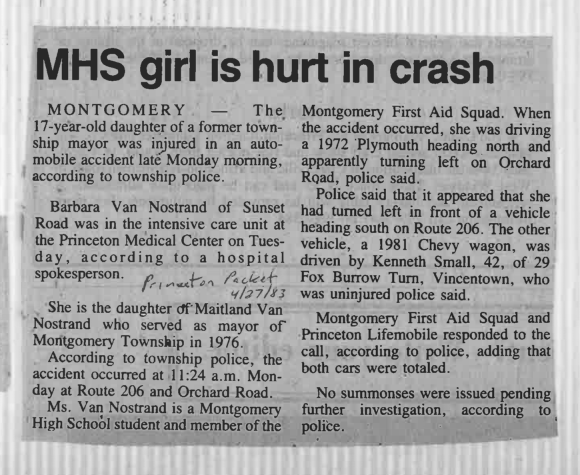 Princeton Packet
27 April 1983
MHS girl is hurt in crash
MONTGOMERY — The 17-year-old daughter of a former township mayor was injured in an automobile accident late Monday morning, according to township police.
Barbara Van Nostrand of Sunset Road was in the intensive care unit at the Princeton Medical Center on Tues- day, according to a hospital spokesperson.
She is the daughter of Maitland Van Nostrand who served as mayor of Montgomery Township in 1976.
According to township police, the accident occurred at 11:24 a m. Monday at Route 206 and Orchard Road.
Ms. Van Nostrand is a Montgomery High School student and member of the
Montgomery First Aid Squad. When the accident occurred, she was driving a 1972 Plymouth heading north and apparently turning left on Orchard Road, police said.
Police said that it appeared that she had turned left in front of a vehicle heading south on Route 206. The other vehicle, a 1981 Chevy wagon, was driven by Kenneth Small, 42, of 29 Fox Burrow Turn. Vincentown, who was uninjured police said.
Montgomery First Aid Squad and Princeton Lifemobile responded to the call, according to police, adding that both cars were totaled.
No summonses were issued pending further investigation, according to police.