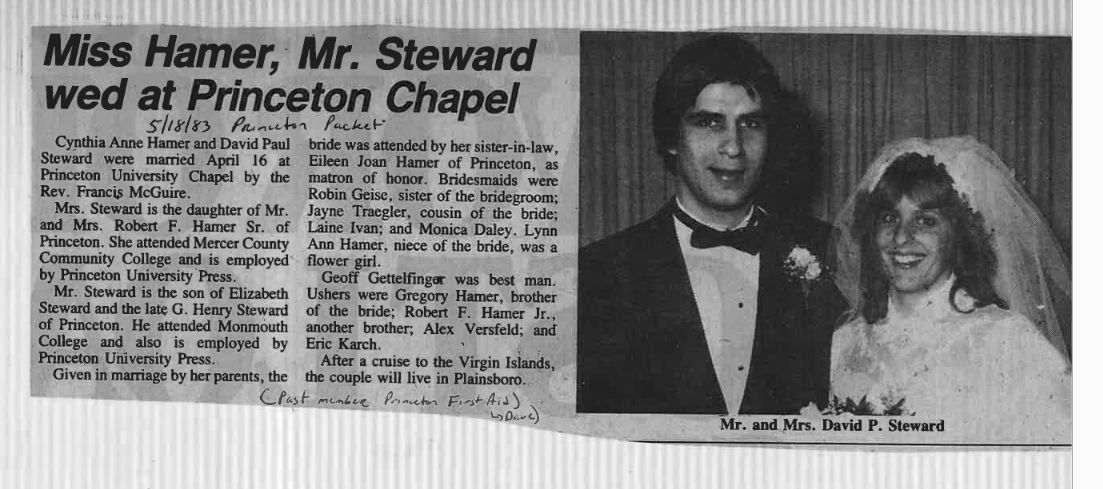 Princeton Packet
18 May 1983
Miss Hamer, Mr. Steward wed at Princeton Chapel
Cynthia Anne Hamer and David Paul Steward were married April 16 at Princeton University Chapel by the Rev. Francis McGuire.
Mrs. Steward is the daughter of Mr. and Mrs. Robert F. Hamer Sr. of Princeton. She attended Mercer County Community College and is employed by Princeton University Press.
Mr. Steward is the son of Elizabeth Steward and the late G. Henry Steward of Princeton. He attended Monmouth College and also is employed by Princeton University Press.
Given in marriage by her parents, the bride was attended by her sister-in-law, Eileen Joan Hamer of Princeton, as matron of honor. Bridesmaids were Robin Geise, sister of the bridegroom; Jayne Traeglcr, cousin of the bride; Laine Ivan; and Monica Daley. Lynn Ann Hamer, niece of the bride, was a flower girl.
Geoff Gettelfingar was best man. Ushers were Gregory Hamer, brother of the bride; Robert F. Hamer Jr., another brother, Alex Vcrsfeld; and Eric Karch.
After a cruise to the Virgin Islands, the couple will live in Plainsboro.
---
(Dave Steward was a past member of the Princeton First Aid and Rescue Squad)