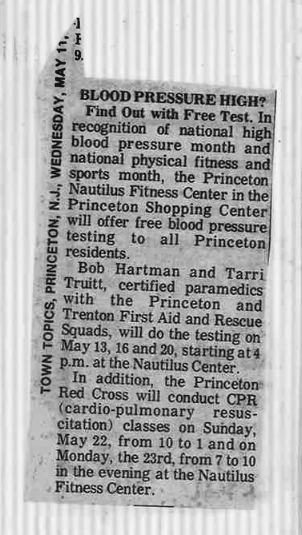 Town Topics
11 May 1983
Blood Pressure High?
Find Out with Free Test. In recognition of national high blood pressure month and national physical fitness and sports month, the Princeton Nautilus Fitness Center in the Princeton Shopping Center will offer free blood pressure testing to all Princeton residents.
Bob Hartman and Tarri Truitt, certified paramedics with the Princeton and Trenton First Aid and Rescue Squads, will do the testing on May 13, 16 and 20, starting at 4 p.m. at the Nautilus Center.
In addition, the Princeton Red Cross will conduct CPR (cardio-pulmonary resuscitation) classes on Sunday, May 22, from 10 to 1 and on Monday, the 23rd, from 7 to 10 in the evening at the Nautilus Fitness Center.