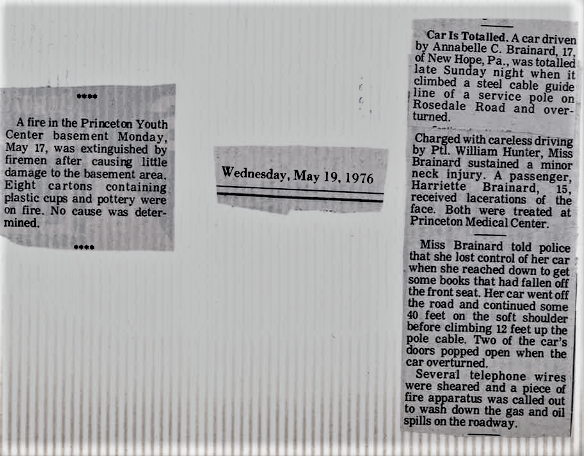 19 May 1976
---
A fire in the Princeton Youth Center basement Monday, May 17, was extinguished by firemen after causing little damage to the basement area. Eight cartons containing plastic cups and pottery were on fire. No cause was determined.
---
Car is totalled. A car driven by Annabelle C. Brainard, 17, of New Hope, Pa., was totalled late Sunday night when it climbed a steel cable guide line of a service pole on  Rosedale Road and over-turned.
Charged with careless driving by Ptl. William Hunter, Miss Brainard sustained a minor neck injury. A passenger, Harriette Brainard, 15, received lacerations of the face. Both were treated at Princeton Medical Center.
Miss Brainard told police that she lost control of her car when she reached down to get some books that had fallen off the front seat. Her car went off the road and continued some 40 feet on the soft shoulder before climbing 12 feet up the pole cable. Two of the car's doors popped open when the car overturned.
Several telephone wires were sheared and a piece of fire apparatus was called out to wash down the gas and oil spills on the roadway.