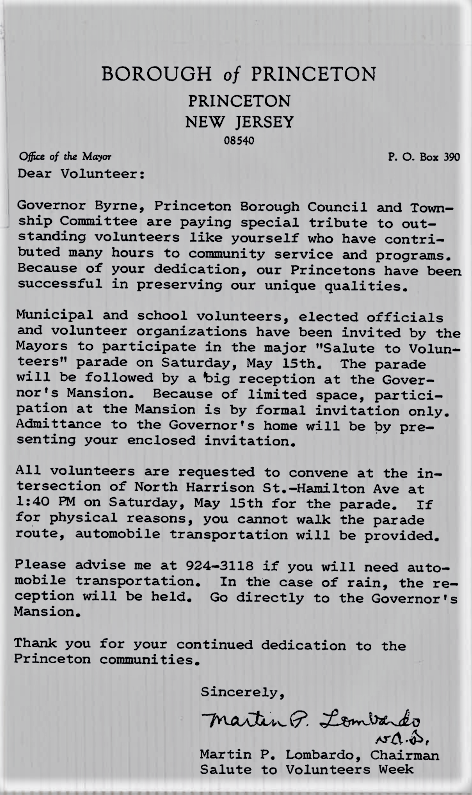 Letter Text:
BOROUGH of PRINCETON
PRINCETON
NEW JERSEY
08540
Office of the Mayor
Dear Volunteer:
Governor Byrne, Princeton Borough Council and Township Committee are paying special tribute to outstanding volunteers like yourself who have contributed many hours to community service and programs. Because of your dedication, our Princetons have been successful in preserving our unique qualities.
Municipal and school volunteers, elected officials and volunteer organizations have been invited by the Mayors to participate in the major "Salute to Volunteers" parade on Saturday, May 15th. The parade will be followed by a big reception at the Governor's Mansion. Because of limited space, participation at the Mansion is by formal invitation only. Admittance to the Governor's home will be by presenting your enclosed invitation.
All volunteers are requested to convene at the intersection of North Harrison St.-Hamilton Ave at 1:40 PM on Saturday, May 15th for the parade. If for physical reasons, you cannot walk the parade route, automobile transportation will be provided.
Please advise me at 924-3118 if you will need automobile transportation. In the case of rain, the reception will be held. Go directly to the Governor's Mansion.
Thank you for your continued dedication to the Princeton communities.
Sincerely,
Martin P. Lombardo, Chairman Salute to Volunteers Week
---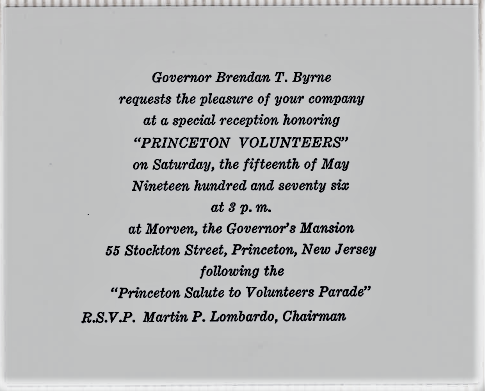 Invitation Text:
Governor Brendan T. Byrne
requests the pleasure of your company
at a special reception honoring
"PRINCETON VOLUNTEERS"
on Saturday, the fifteenth of May
Nineteen hundred and seventy six
at 3 p. m.
at Morven, the Governor's Mansion
55 Stockton Street, Princeton, New Jersey
following the "Princeton Salute to Volunteers Parade"
R.S.V.P. Martin P. Lombardo, Chairman
---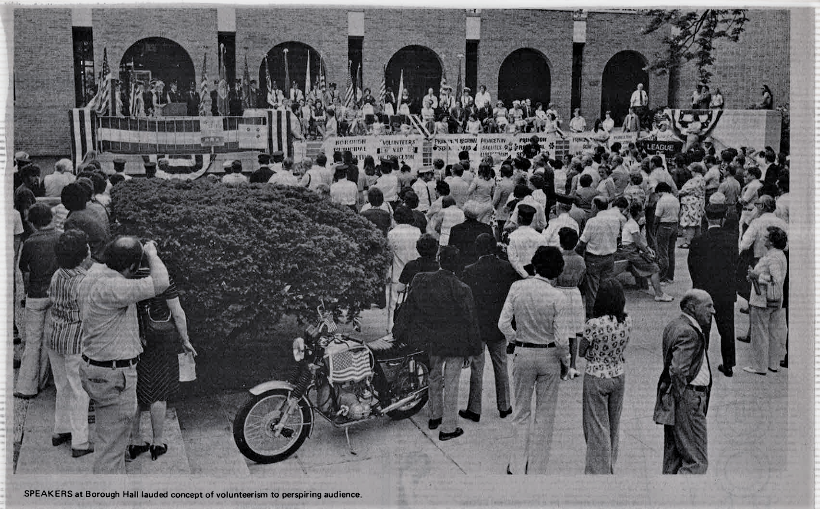 Photo Caption:
SPEAKERS at Borough Hall lauded concept of volunteerism to perspiring audience.