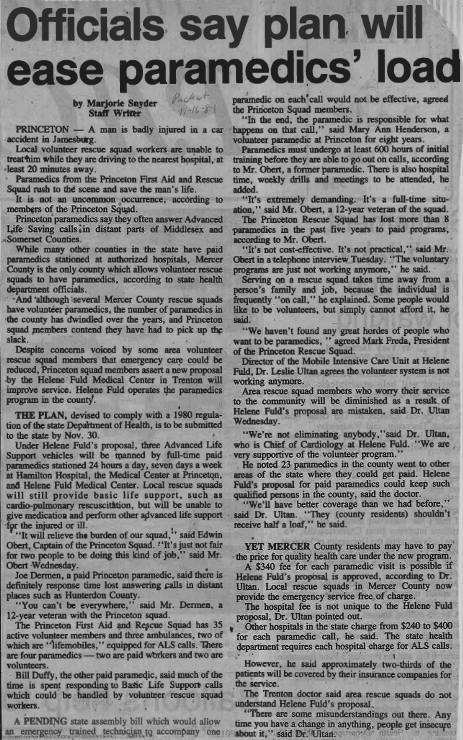 Princeton Packet
16 November, 1984
Officials say plan will ease paramedics' load
Author: Marjorie Snyder
Staff Writer
PRINCETON — A man is badly injured in a car accident in Jamesburg.
Local volunteer rescue squad workers are unable to treat him while they are driving to the nearest hospital, at least 20 minutes away.
Paramedics from the Princeton First Aid and Rescue Squad rush to the scene and save the man's life.
It is not an uncommon occurrence, according to members of the Princeton Squad.
Princeton paramedics say they often answer Advanced Life Saving calls in distant parts of Middlesex and Somerset Counties.
While many other counties in the state have paid paramedics stationed at authorized hospitals, Mercer County is the only county which allows volunteer rescue squads to have paramedics, according to state health department officials.
And although several Mercer County rescue squads have volunteer paramedics, the number of paramedics in the county has dwindled over the years, and Princeton squad members contend they have had to pick up the slack.
Despite concerns voiced by some area volunteer rescue squad members that emergency care could be reduced, Princeton squad members assert a new proposal by the Helene Fuld Medical Center in Trenton will improve service. Helene Fuld operates the paramedics program in the county.
THE PLAN, devised to comply with a 1980 regulation of the state Department of Health, is to be submitted to the state by Nov. 30.
Under Helene Fuld's proposal, three Advanced Life Support vehicles will be manned by full-time paid paramedics stationed 24 hours a day, seven days a week at Hamilton Hospital, the Medical Center at Princeton, and Helene Fuld Medical Center. Local rescue squads will still provide basic life support, such as cardio-pulmonary rescuscitation, but will be unable to give medication and perform other advanced life support for the injured or ill.
"It will relieve the burden of our squad," said Edwin Obert, Captain of the Princeton Squad. It's just not fair for two people to be doing this kind of job," said Mr. Obert Wednesday.
Joe Dermen, a paid Princeton paramedic, said there is definitely response time lost answering palls in distant places such as Hunterdon County.
"You can't be everywhere," said Mr. Dermen, a 12-year veteran with the Princeton squad.
The Princeton First Aid and Rescue Squad has 35 active volunteer members and three ambulances, two of which are "lifemobiles," equipped for ALS calls. There are four paramedics — two are paid workers and two are volunteers.
Bill Duffy, the other paid paramedic, said much of the time is spent responding to Basic Life Support calls which could be handled by volunteer rescue squad workers.
A PENDING state assembly bill which would allow an emergency trained technician accompany one paramedic on each call would not be effective, agreed the Princeton Squad members.
"In the end, the paramedic is responsible for what happens on that call," said Mary Ann Henderson, a volunteer paramedic at Princeton for eight years.
Paramedics must undergo at least 600 hours of initial training before they are able to go out on calls, according to Mr. Obert, a former paramedic. There is also hospital time, weekly drills and meetings to be attended, he added.
"It's extremely demanding. It's a full-time situation," said Mr. Obert, a 12-year veteran of the squad.
The Princeton Rescue Squad has lost more than 8 paramedics in the past five years to paid programs, according to Mr. Obert.
"It's not cost-effective. It's not practical," said Mr. Obert in a telephone interview Tuesday. "The voluntary programs are just not working anymore," he said.
Serving on a rescue squad takes time away from a person's family and job, because the individual is frequently "on call," he explained. Some people would like to be volunteers, but simply cannot afford it, he said.
"We haven't found any great hordes of people who want to be paramedics, " agreed Mark Freda, President of the Princeton Rescue Squad.
Director of the Mobile Intensive Care Unit at Helene Fuld, Dr. Leslie Ultan agrees the volunteer system is not working anymore.
Area rescue squad members who worry their service to the community will be diminished as a result, of Helene Fuld's proposal are mistaken, said-Dr. Ultan Wednesday.
"We're not eliminating anybody,''said Dr. Ultan, who is Chief of Cardiology at Helene Fuld. "We are , very supportive of the volunteer program."
He noted 23 paramedics in the county went to other areas of the state where they could get paid. Helene Fuld's proposal for paid paramedics could keep such qualified persons in the county, said the doctor.
"We'll have better coverage than we had before," said Dr. Ultan. "They (county residents) shouldn't receive half a loaf," he said.
YET MERCER County residents may have to pay the price for quality health care under the new program.
A $340 fee for each paramedic visit is possible if Helene Fuld's proposal is approved, according to Dr. Ultan. Local rescue squads in Mercer County now provide the emergency service free of charge.
The hospital fee is not unique to the Helene Fuld proposal, Dr. Ultan pointed out.
Other hospitals in the state charge from $240 to $400 for each paramedic call, he said. The state health department requires each hospital charge for ALS calls.
However, he said approximately two-thirds of the patients will be covered by their insurance companies for the service.
The Trenton doctor said area rescue squads do not understand Helene Fuld's proposal.
"There are some misunderstandings out there. Any time you have a change in anything, people get insecure about it," said Dr. Ultan.