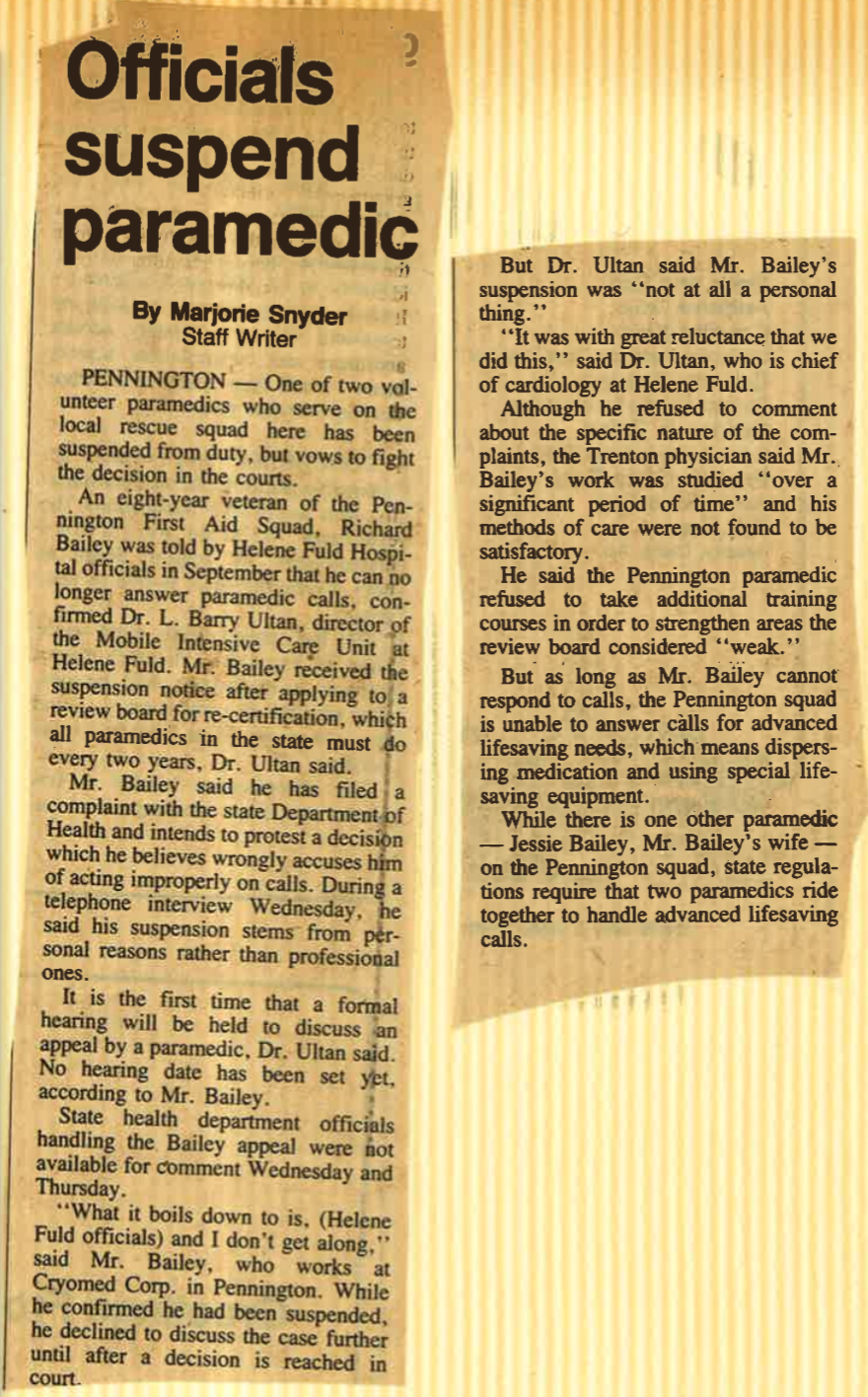 20 December, 1985 (~estimated)
Officials suspend paramedic
By Marjorie Snyder
Staff Writer
PENNINGTON — One of two volunteer paramedics who serve on the local rescue squad here has been suspended from duty, but vows to fight the decision in the courts.
An eight-year veteran of the Pennington First Aid Squad, Richard Bailey was told by Helene Fuld Hospital officials in September that he can no longer answer paramedic calls. con-firmed Dr. L. Barry Ultan, director of 1 the Mobile Intensive Care Unit at Helene Fuld.
Mr. Bailey received the ,1 suspension notice after applying to a review board for re-certification, which all paramedics in the state must do every two years, Dr. Ultan said. Mr. Bailey said he has filed a complaint with the state Department of Health and intends to protest a decision which he believes wrongly accuses him of acting improperly on calls. During a telephone interview Wednesday. he said his suspension stems from personal reasons rather than professional ones.
It is the first time that a formal hearing will be held to discuss an appeal by a paramedic. Dr. Ultan said. No hearing date has been set yet. according to Mr. Bailey.
State health department officials handling the Bailey appeal were not available for comment Wednesday and Thursday.
"What it boils down to is. (Helene Fuld officials) and I don't get along." said Mr. Bailey. who works at Cryomed Corp. in Pennington. While he confirmed he had been suspended, he declined to discuss the case further until after a decision is reached in court.But Dr. Ultan said Mr. Bailey's suspension was "not at all a personal thing."
"It was with great reluctance that we did this," said Dr. Ultan, who is chief of cardiology at Helene Fuld.
Although he refused to comment about the specific nature of the com-plaints, the Trenton physician said Mr. Bailey's work was studied "over a significant period of time" and his methods of care were not found to be satisfactory.
He said the Pennington paramedic refused to take additional training courses in order to strengthen areas the review board considered "weak."
But as long as Mr. Bailey cannot respond to calls, the Pennington squad is unable to answer calls for advanced lifesaving needs, which means dispersing medication and using special life-saving equipment.
While there is one other paramedic — Jessie Bailey, Mr. Bailey's wife —on the Pennington squad, state regulations require that two paramedics ride together to handle advanced lifesaving calls.