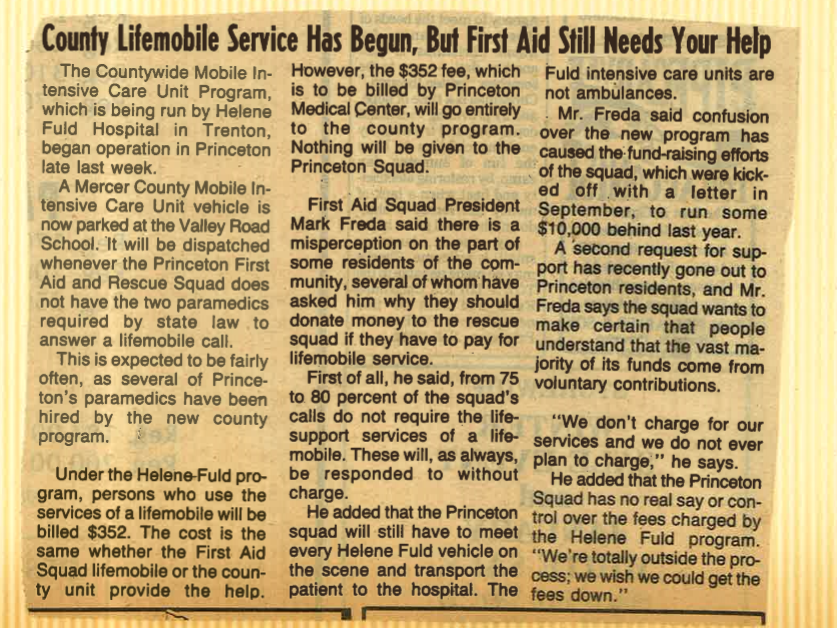 20 December, 1985 (~estimated)
County Lifemobile Service Has Begun, But First Aid Still Needs Your Help
The Countywide Mobile Intensive Care Unit Program, which is being run by Helene Fuld Hospital in Trenton, began operation in Princeton late last week.
A Mercer County Mobile Intensive Care Unit vehicle is now parked at the Valley Road School. It will be dispatched whenever the Princeton First Aid and Rescue Squad does not have the two paramedics required by state law to answer a lifemobile call.
This is expected to be fairly often, as several of Princeton's paramedics have been hired by the new county program.
Under the Helene-Fuld program, persons who use the services of a lifemobile will be billed $352. The cost is the same whether the First Aid Squad lifemobile or the county unit provide the help.
However, the $352 fee, which is to be billed by Princeton Medical center, will go entirely to the county program. Nothing will be given to the Princeton Squad.
First Aid Squad President Mark Freda said there is a misperception on the part of some residents of the community, several of whom have asked him why they should donate money to the rescue squad if they have to pay for lifemobile service.
First of all, he said, from 75 to 80 percent of the squad's calls do not require the life-support services of a life-mobile. These will, as always, be responded to without charge.
He added that the Princeton squad will still have to meet every Helene Fuld vehicle on the scene and transport the patient to the hospital. The Fuld intensive care units are not ambulances.
Mr. Freda said confusion over the new program has caused the-fund-raising efforts of the squad, which were kick-ed off . with a letter in September. to run some $10,000 behind last year.
A second request for sup-port has recently gone out to Princeton residents, and Mr. Freda says the squad wants to make certain that people understand that the vast majority of its funds come from voluntary contributions.
"We don't charge for our services and we do not ever plan to charge," he says. He added that the Princeton Squad has no real say or control over the fees charged by the Helene Fuld program. "We're totally outside the process; we wish we could get the fees down."