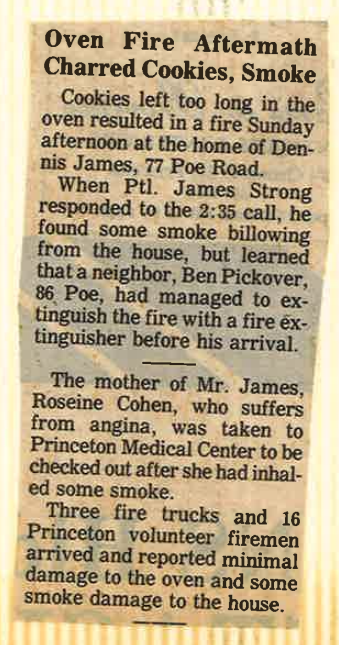 30 August, 1987
Oven Fire Aftermath Charred Cookies, Smoke
Cookies left too long in the oven resulted in a fire Sunday) afternoon at the home of Dennis James, 77 Poe Road.
When Ptl. James Strong responded to the 2:35 call, he found some smoke billowing from the house, but learned that a neighbor, Ben Pickover, 86 Poe, had managed to extinguish the fire with a fire extinguisher before his arrival.
The mother of Mr. James, Roseine Cohen, who suffers from angina, was taken to Princeton Medical Center to be checked out after she had inhaled some smoke.
Three fire trucks and 16 Princeton volunteer firemen arrived and reported minimal damage to the oven and some smoke damage to the house.