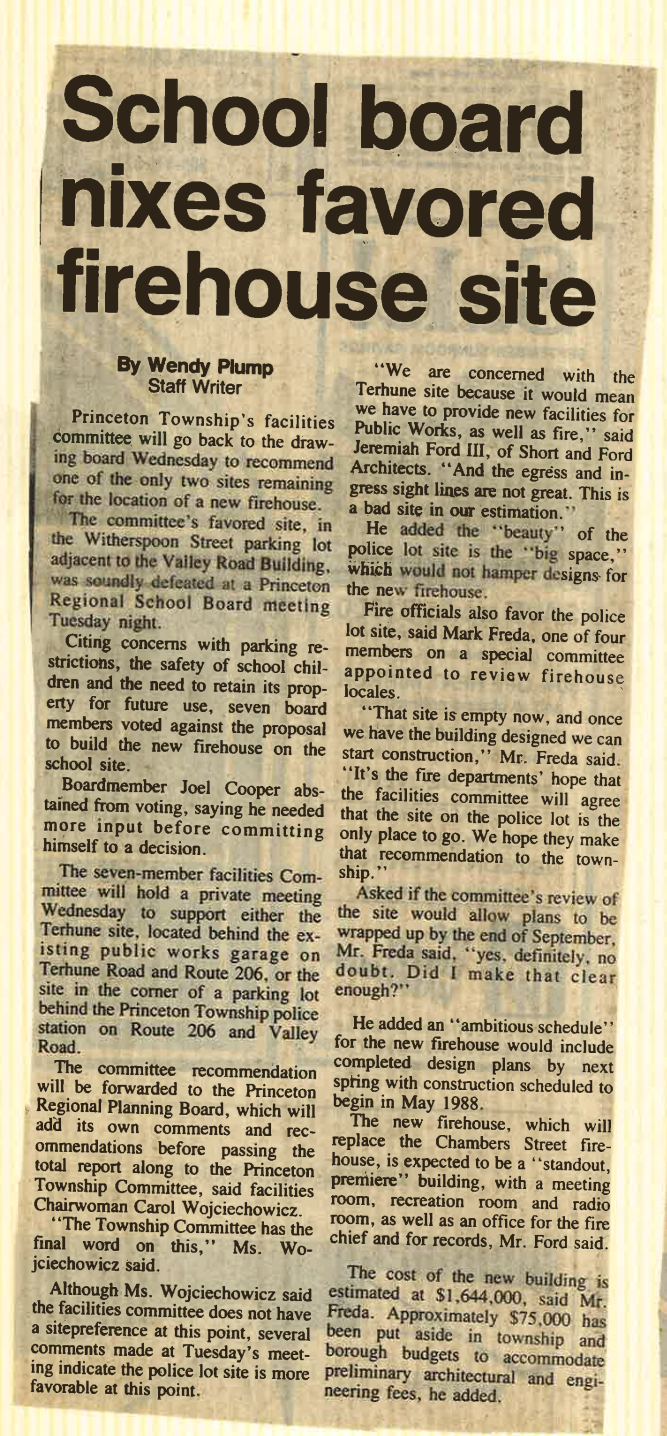 30 August, 1987 (~estimated)
School board nixes favored firehouse site
By Wendy Plump
Staff Writer
Princeton Township facilities Committee will go back to the drawing board Wednesday to recommend one of the only two sites remaining for the location of a new firehouse.
The committee's favored site, in the Witherspoon Street parking lot adjacent to the Valley Road Building. was soundly defeated at a Princeton Regional School Board meeting Tuesday night.
Citing concerns with parking restrictions, the safety of school children and the need to retain its property for future use, seven board members voted against the proposal to build the new firehouse on the school site.
Board Member Joel Cooper abstained from voting, saying he needed more input before committing himself to a decision.
The seven-member facilities Committee will hold a private meeting Wednesday to support either the Terhune site, located behind the existing public works garage on Terhune Road and Route 206. or the site in the comer of a parking lot behind the Princeton Township police station on Route 206 and Valley Road.
The committee recommendation will be forwarded to the Princeton Regional Planning Board, which will add its own comments and recommendations before passing the total report along to the Princeton Township Committee, said facilities Chairwoman Carol Wojciechowicz. "The Township Committee has the final word on this," Ms. Wojciechowicz said.
Although Ms. Wojciechowicz said the facilities committee does not have a site preference at this point, several comments made at Tuesday's meeting indicate the police lot site is more favorable at this point.
"We are concerned with the Terhune site because it would mean we have to provide new facilities for Public Works, as well as fire," said Jeremiah Ford III, of Short and Ford Architects. "And the egress and ingress sight lines are not great. This is a bad site in our estimation.'
He added the "beauty" of the police lot site is the "big space," which would not hamper designs for the new firehouse.
Fire officials also favor the police lot site, said Mark Freda, one of four members on a special committee appointed to review firehouse locales.
"That site is empty now, and once we have the building designed we can start construction," Mr. Freda said.
"It's the fire departments' hope that the facilities committee will agree that the site on the police lot is the only place to go. We hope they make that recommendation to the township."