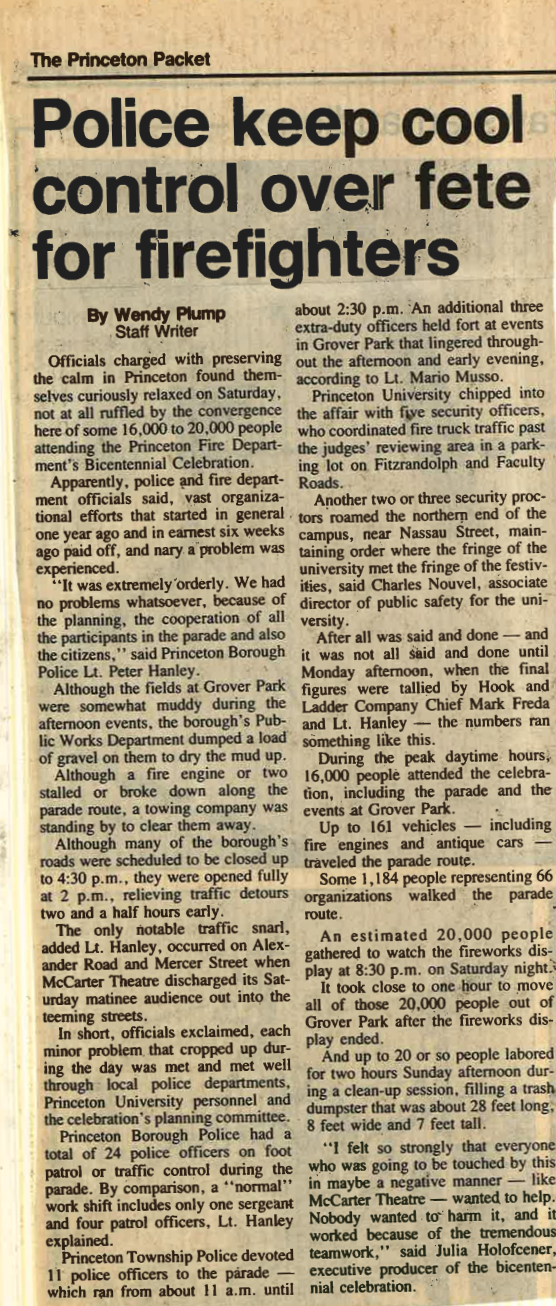 Princeton Packet
17 May, 1988
Police keep cool control over fete for firefighters
By Wendy Plump
Staff Writer
Officials charged with preserving the calm in Princeton found themselves curiously relaxed on Saturday, not at all ruffled by the convergence been of some 16,000 to 20,000 people attending the Princeton Fire Department's Bicentennial Celebration.
Apparently, police and fire department officials said, vast organizational efforts that started in general one year ago and in earnest six weeks ago paid off, and nary a problem was experienced.
"It was extremely orderly. We had no problems whatsoever, because of the planning, the cooperation of all the participants in the parade and also the citizens," said Princeton Borough Police Lt. Peter Hanley.
Although the fields at Grover Park were somewhat muddy during the afternoon events. the borough Public Works Department dumped a load of gravel on them to dry the mud up.
Although a fire engine or two stalled or broke down along the parade route, a towing company was standing by to clear them away.
Although many of the borough's roads were scheduled to be closed up to 4:30 p.m.. they were opened fully at 2 p.m.. relieving traffic detours two and a half hours early.
The only notable traffic snarl, added Lt. Hanley, occurred on Alexander Road and Mercer Street when McCarter Theatre discharged its Sat-urday matinee audience out into the teeming streets.
In short, officials exclaimed, each minor problem that cropped up dur-ing the day was met and met well through local police departments. Princeton University personnel and the celebration's planning committee.
Princeton Borough Police had a total of 24 police officers on foot patrol or traffic control during the parade. By comparison, a "normal" work shift includes only one sergeant and four patrol officers, Lt. Hanky explained.
Princeton Township Police devoted I I police officers to the parade —which ran from about II a.m. until about 1:30 p.m. An additional three extra-duty officers held fort at events in Grover Park that lingered throughout the afternoon and early evening, according to Lt. Mario Musso. Princeton University chipped into the affair with fore security officers. who coordinated fire truck traffic past the judges' reviewing area in a parking lot on Fitzrandolph and Faculty Roads.
Another two or three security proctors roamed the northern end of the campus, near Nassau Street, maintaining order where the fringe of the university met the fringe of the festivities, said Charles Nouvel, associate director of public safety for the university.
After all was said and done — and it was not all said and done until Monday afternoon, when the final figures were tallied by Hook and Ladder Company Chief Mark Freda and Lt. Hanley — the numbers ran something like this.
During the peak daytime hours, 16,000 people attended the celebration, including the parade and the events at Grover Park.
Up to 161 vehicles — including fire engines and antique cars — traveled the parade route.
Some 1,184 people representing 66 organizations walked the parade route.
An estimated 20,000 people gathered to watch the fireworks display at 8:30 p.m. on Saturday night.
It took close to one hour to move all of those 20,000 people out of Grover Park after the fireworks display ended.
And up to 20 or so people labored for two hours Sunday afternoon during a clean-up session filling a trash dumpster that was about 28 feet long, 8 feet wide and 7 feet tall.
"I felt so strongly that everyone who was going to be touched by this in maybe a negative manner — like McCarter Theatre — wanted to help. Nobody wanted to' harm it, and it worked because of the tremendous teamwork," said Julia Holofcener, executive producer of the bicentennial celebration.
---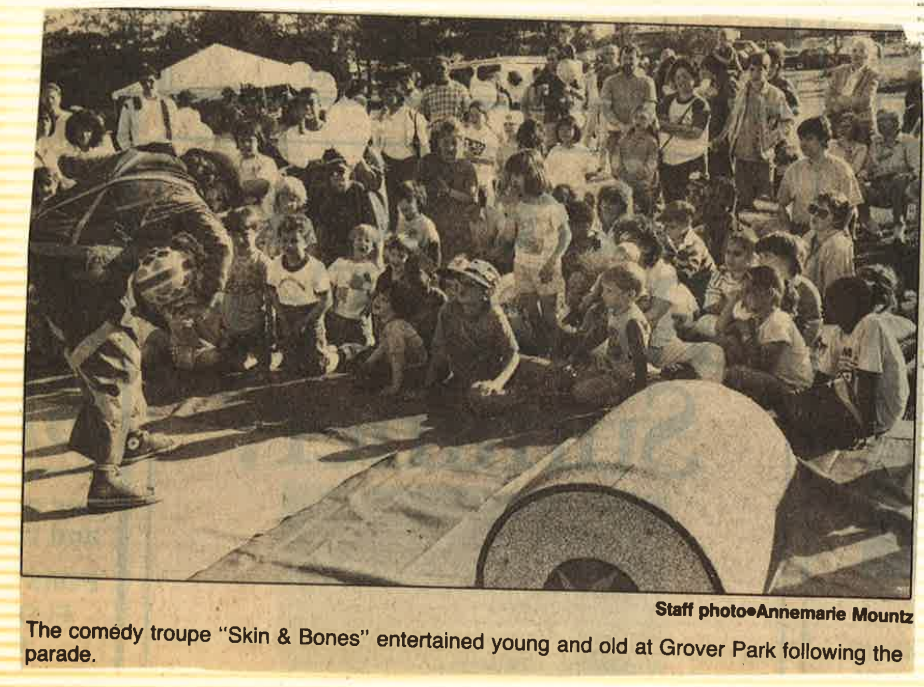 Staff photo • Annemarie Mountz
The comedy troupe "Skin & Bones" entertained young and old at Grover Park following the parade.
---