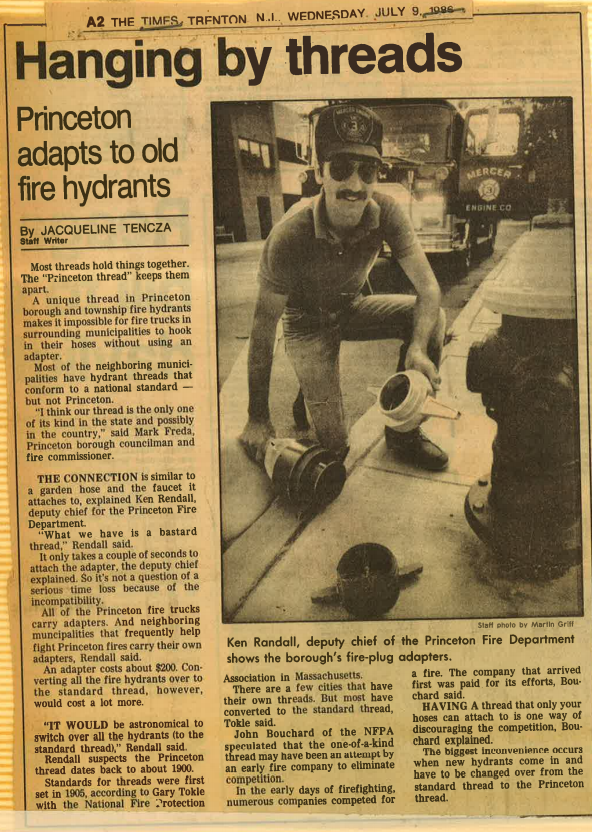 9 July, 1986
The Trenton Times
Princeton adapts to old fire hydrants
BY Jacqueline Tencza
Staff Writer
Most threads hold things together. The "Princeton thread" keeps them apart.
A unique thread in Princeton borough and township fire hydrants makes it impossible for fire trucks in surrounding municipalities to hook in their hoses without using an adapter.
Most of the neighboring municipalities have hydrant threads that conform to a national standard —but not Princeton.
"I think our thread is the only one of its kind in the state and possibly in the country," said Mark Freda, Princeton borough councilman and fire commissioner.
THE CONNECTION is similar to a garden hose and the faucet it attaches to, explained Ken Rendall, deputy chief for the Princeton Fire Department.
"What we have is a bastard thread," Rendall said.
It only takes a couple of seconds to attach the adapter, the deputy chief explained. So it's not a question of a serious time loss because of the incompatibility. MI of the Princeton fire trucks carry adapters. And neighboring municipalities that frequently help fight Princeton fires carry their own adapters, Rendall said.
An adapter costs about $200. Con-verting all the fire hydrants over to the standard thread, however, would cost a lot more.
"IT WOULD be astronomical to switch over all the hydrants (to the standard thread)," Rendall said. Rendall suspects the Princeton thread dates back to about 1900. Standards for threads were first set in 1905, according to Gary Tokle with the National Fire Protection Association in Massachusetts.
There are a few cities that have their own threads. But most have converted to the standard thread, Tokle said.
John Bouchard of the NFPA speculated that the one-of-a-kind thread may have been an attempt by an early fire company to eliminate competition. In the early days of firefighting, numerous companies competed for a fire. The company that arrived first was paid for its effort, Bouchard said.
HAVING A thread that only your hoses can attach to is one way of discouraging the competition, Bouchard explained.
The biggest inconvenience occurs when new hydrants come in and have to be changed over from the standard thread top the Princeton thread.