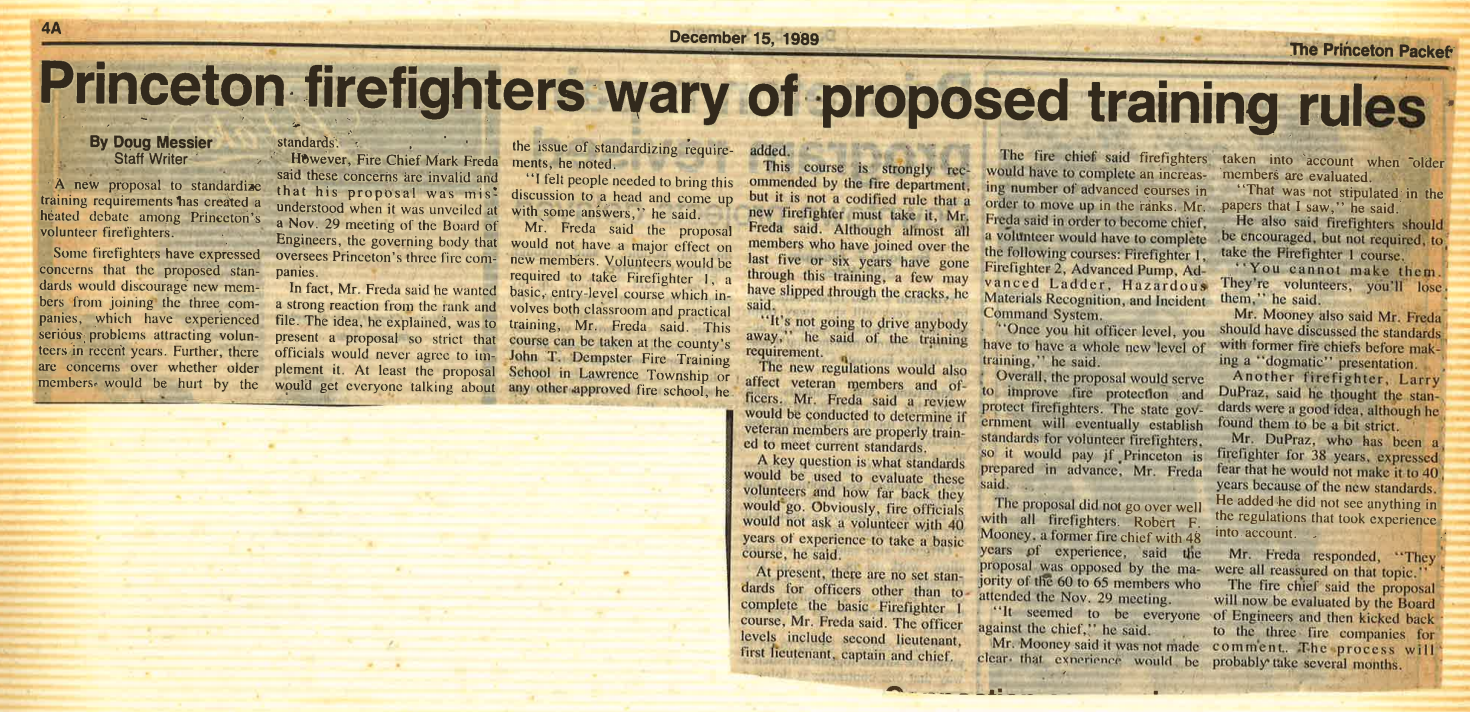 Princeton Packet
15 December, 1989
Princeton firefighters wary of proposed training rules
By Doug Messier
Staff Writer
A new proposal to standardiac training requirements 'has created a heated debate among Princeton's volunteer firefighters. Some firefighters have expressed concerns that the proposed standards would discourage new members from joining' the three companies, which have experienced serious, problems attracting volunteers in recent years. Further, there are concerns over whether older members, would be hurt by the standards.
However, Fire Chief Mark Freda said these concerns are invalid and that his proposal was mist understood when it was unveiled at a Nov. 29 meeting of the Board of Engineers, the governing body that oversees Princeton's three fire companies.
In fact, Mr. Freda said he wanted a strong reaction from the rank and file. The idea, he explained, was to present a proposal so strict that officials would never agree to implement it. At least the proposal would get everyone talking about the issue of standardizing requirements, he noted.
"I felt people needed to bring this discussion to a head and come up with some answers," he said.
Mr. Freda said the proposal would not have a major effect on new members. Volunteers would be required to take Firefighter I, a basic, entry-level course which involves both classroom and practical training, Mr. Freda said. This course can be taken at the county's John T. Dempster Fire Training School in Lawrence Township or any other approved fire school, he added.
This course is strongly recommended by the fire department, but it is not a codified rule that a new firefighter must take it, Mr, Freda said. Although almost ail members who have joined over the last five or six years have gone through this training, a few may have slipped Through the cracks, he said.
"It's not going to drive anybody away," he said of the training requirement.
The new regulations would also affect veteran members and officers. Mr. Freda Said a review would be conducted to determine if veteran members are properly trained to meet current standards.
A key question is what standards would be, used to evaluate these volunteers and how far back they would-go. Obviously, fire officials would not ask a volunteer with 40 years of experience to take a basic course, he sold.
At present, there are no set standards for officers other than to-complete the basic Firefighter I course, Mr. Freda said. The officer levels include second lieutenant, first lieutenant, captain and chief.
The fire chief said firefighters would have to complete an increasing number or advanced courses in order to move up in the tanks. Mr. Freda said in order to become chief. a volunteer would have to complete the following courses: Firefighter 1, Firefighter 2, Advanced Pump, Advanced Ladder, Hazardous Materials Recognition, and Incident Command System.
"Once you hit officer level, you have to have a whale new level of training," he said.
Overall, the proposal would serve to improve fire protection and protect firefighters. The state government will eventually establish standards for volunteer firefighters. so it would pay if Princeton is prepared in advance, Mr. Freda said.
The proposal did not go over well with all firefighters. Robert F. Mooney. a former foe chief with 48 years of experience, said the proposal was opposed by the majority of the 60 to 65 members who attended the Nov. 29 meeting.
"It seemed to be everyone against the chief," he said.
Mr. Mooney said it was not Made clear that experience would be taken into 'account when 'older 'members are evaluated.
"That was not stipulated: in the papers that I saw," he said.
He also said firefighters should be encouraged, but nut required, toy take the Firefighter I course.
"You cannot make them. They're volunteers, you'll lose. them," he said.
Mr. Mooney also said Mr. Freda should have discussed the standards, with former fire chiefs before making a "dogmatic" presentation.
Another firefighter, Larry DuPraz, said he thought the standards were a good idea, although he found them to be a bit strict.
Mr. DuPraz, who has been a, firefighter for 38 years, impressed fear that he would not make it to 40 , years because of the new standards. He added he did not see anything in the regulations that took experience into account.
Mr. Freda responded, "They were all reassured on that topic." The fire chief said the proposal will now be evaluated by the Board of Engineers and then kicked back to the three lire companies for comment. The process will probably take several months.