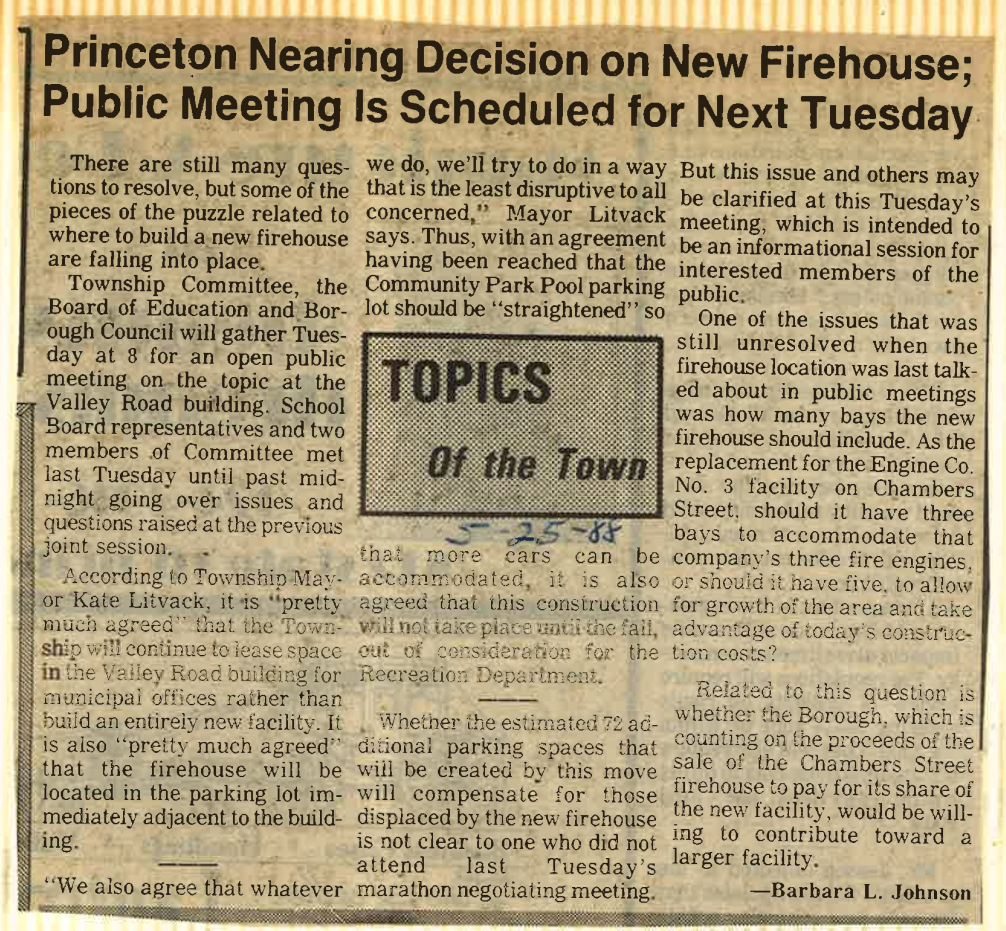 Town Topics
25 May, 1988
Princeton Nearing Decision on New Firehouse; Public Meeting Is Scheduled for Next Tuesday
Barbara L. Johnson
There are still many questions to resolve, but some of the pieces of the puzzle related to where to build a new firehouse are falling into place.
Township Committee, the Board of Education and Borough Council will gather Tuesday at 8 for an open public meeting on the topic at the Valley Road budding. School Board representatives and two members of Committee met last Tuesday until past midnight;. going over issues and questions raised at the previous joint session.
According to Township Mayor Kate Litvack, "it is pretty much agreed" that the Township will continue to lease space in the Valley Road building for municipal offices rather than build an entirely new facility. It is also "pretty much agreed" that the firehouse will be located in the parking lot immediately adjacent to the building.
"We also agree that whatever we do, we'll try to do in a way that is the least disruptive to all concerned," Mayor Litvack says. Thus, with an agreement having been reached that the Community Park Pool parking lot should be "straightened" so that more cars can be accomodated, it is also agreed that this construction will not take place until the fail, out of consideration for the Recreation Department.
Whether the estimated 72 additional parking spaces that will be created by this move will be created by this move will compensate for those displaced by the new firehouse is not clear to one who did not attend last Tuesday's marathon negotiating meeting.
But this issue and others may be clarified at this Tuesday's meeting, which is intended to be an informational session for interested members of the public.
One of the issues that was still unresolved when the firehouse location was last talked about in public meetings was how many bays the new firehouse should include. As the replacement for the Engine Co. No. 3 facility on Chambers Street, should it have a five, to allow for growth of the area and take advantages of today's construction costs?
Related to this question is whether the Borough, which is counting on the proceeds of the sale of the Chambers Street firehouse to pay for its share of the new facility, would be willing to contribute toward a larger facility.