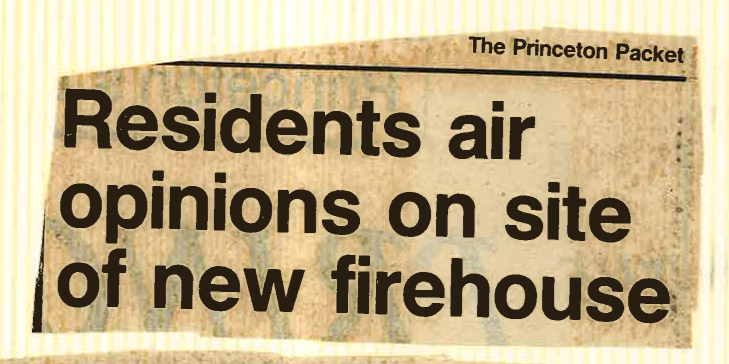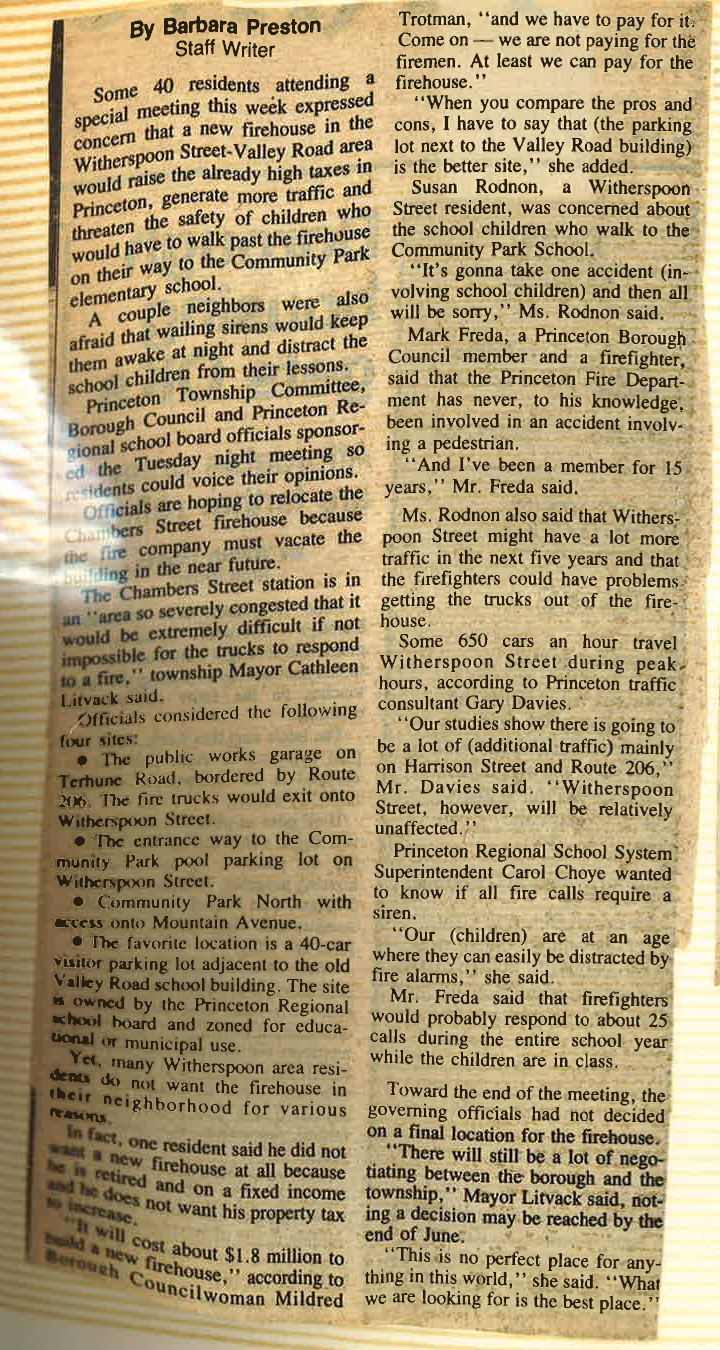 Princeton Packet
25 May, 1988
Residents air opinions on site of new firehouse
By Barbara Preston
Staff Writer
Some 40 residents attending a special meeting this week expressed concern that a new firehouse in the Witherspoon Street – Valley Road area would raise the already high taxes in Princeton, generate more traffic and threaten the safety of would have to walk past the firehouse on their way to the Community Park elementary school.
A couple neighbors were also afraid that wailing sirens would keep them awake at night and distract the school children from their lessons.
Princeton Township Committee, Borough Council and Princeton Regional school board officials sponsored the Tuesday night meeting so residents could voice their opinions.
Officials are hoping to relocate the Chambers Street firehouse because the fire company must vacate the building in the near future.
The Chambers Street station is in an "ara so severely congested that it would be extremely difficult if not impossible for the trucks to respond to a fire," township Mayor Cathleen Litvack said.
Officials considered the following four sites:
The public works garage on Terhune Road, bordered by Route 206. The fire trucks would exit onto Witherspoon Street.
The entrance way to the Community Park pool parking lot on Witherspoon Street
Community Park North with access on Mountain Avenue
The favorite location is a 40-car visitor parking lot adjacent to the old Valley Road school building. The site is owned by the Princeton Regional school board and zoned for educational or municipal use.
Yet, many Witherspoon area residents do not want the firehouse in their neighborhood for various reasons.
In fact, one resident said he did not want a new firehouse at all because he is retired and on a fixed income and he does not want his property tax to increase.
"It will cost about $1.8 million to build a new firehouse," according to Borough Councilwoman Mildred Trotman, "and we have to pay for it Come on — we are not paying for the firemen. At least we can pay for the firehouse."
When you compare the pros and cons, I have to say that (the parking lot next to the Valley Road building) is the better site," she added. Susan Rodnon, a Witherspoon Street resident, was concerned about the school children who walk to the Community Park School.
"It's gonna take one accident (involving school children) and then all will be sorry," Ms. Rodnon said.
Mark Freda, a Princeton Borough Council member and a firefighter, said that the Princeton Fire Department has never, to his knowledge, been involved in an accident involving a pedestrian.
"And I've been a member for 15 years," Mr. Freda said.
Ms. Rodnon also said that Withers; poon Street might have a lot more traffic in the next five years and that the firefighters could have problems • getting the trucks out of the fire-house.
Some 650 cars an hour travel Witherspoon Street during peak. hours, according to Princeton traffic consultant Gary Davies. '
"Our studies show there is going to be a lot of (additional traffic) mainly on Harrison Street and Route 206," Mr. Davies said. "Witherspoon Street, however, will be relatively unaffected."
Princeton Regional School System Superintendent Carol Choye wanted to know if all fire calls require a siren. "Our (children) are at an age where they can easily be distracted by her alarms," she said.
Mr. Freda said that firefighters would probably respond to about 25 calls during the entire school year while the children are in class.
Toward the end of the meeting, the governing officials had not decided on a final location for the firehouse. "There will still be a lot of negotiating between the borough and tls township," Mayor Litvack said, noting a decision may be reached by the end of lune.
"This is no perfect place for anything in this world," she said. "Who, we are looking for is the best place."