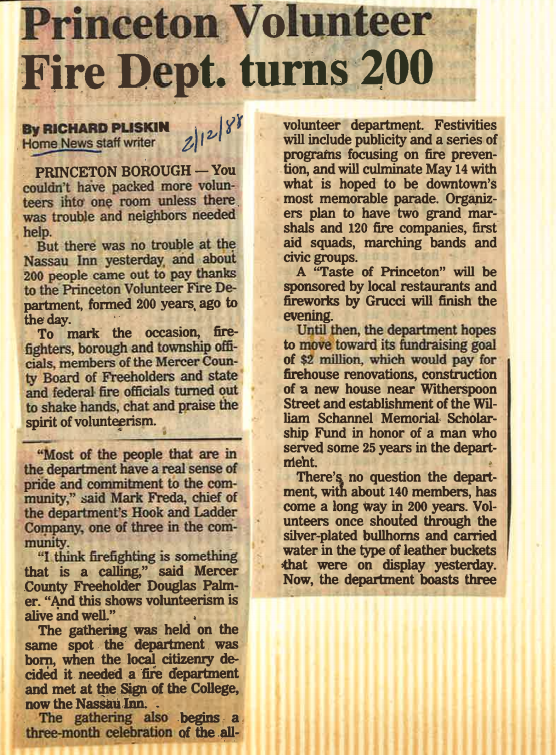 Home News
12 February, 1988
Princeton Volunteer Fire Dept. turns 200

By Richard Pliskin
staff writer
PRINCETON BOROUGH — You couldn't have packed more volunteers into one room unless there was trouble and neighbors needed help.
But there was no trouble at the Nassau Inn yesterday and about 200 people came out to pay thanks to the Princeton Volunteer Fire Department, formed 200 years, ago to the day.
To mark the occasion, fire-fighters, borough and township officials, members of the Mercer County Board of Freeholders and state and federal fire officials turned out to shake hands chat and praise the spirit of volunteerism.
"Most of the people that are in the department have a real sense of pride and commitment to the community," said Mark Freda, chief of the department's Hook and Ladder Company, one of three in the community.
"I think firefighting is something that is a calling" said Mercer County Freeholder Douglas Palmer. "And this shows volunteerism is alive and well"
The gathering was held on the same spot the department was born when the local citizenry decided it needed a frig department and met at the Sign of the College, now the Nassau Inn.
The gathering also begins a three-month celebration of the all volunteer department, Festivities veil include publicity and a settee of programs focusing on fire prevention, and will culminate May 14 with what is hoped to be downtown's most memorable parade. Organizers plan to have two grand marshals and 120 fire companies, first aid squads, marching bands and civic groans.
A "Taste of Princeton" will be sponsored by local restaurants and fireworks by Grucci will finish the evening.
Until then, the department hopes to move toward its fundraising goal of $2 million, which will would pay for firehouse renovations, construction of a new house near Witherspoon Street and establishment of the William Schannel Memorial Scholarship Fund in honor of a man who served some 25 years in the department.
There's no question the department with about 140 members, has come a long way in 200 years. Volunteers once shouted through the silver-plated bullhorns and carried water in the type of leather buckets that were on display yesterday. Now, the department boasts three …