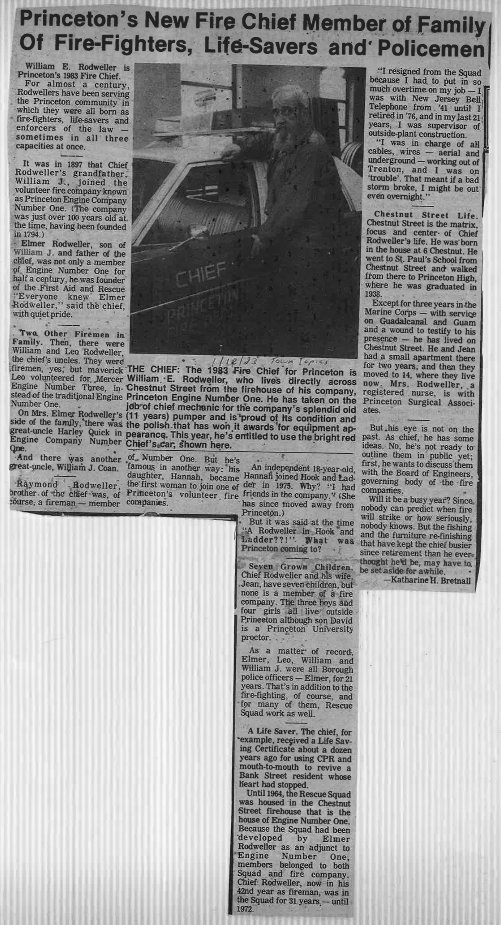 Town Topics
12 January 1983
Princeton's New Fire Chief Member of Family Of Fire-Fighters, Life-Savers and Policemen
William E. Rodweller is Princeton's 1983 Fire Chief. For almost a century, Rodwellers have been serving the Princeton community in which they were all born as fire-fighters, life-savers and enforcers of the law — sometimes in all three capacities at once.
It was in 1897 that Chief Rodweller's grandfather. William J., joined the volunteer fire company known as Princeton Engine Company Number One. (The company was just over 100 years old at the time, having been founded in 1794.)
Elmer Rodweller, son of William J. and father of the chief, was not only a member of Engine Number One for half a century, he was founder of the First Aid and Rescue "Everyone knew Elmer Rodweller," said the chief, with quiet pride.
Two Other Firemen in Family. Then, there were William and Leo Rodweller, the chief's uncles. They were firemen, yes; but maverick Leo volunteered for Mercer Engine Number Three, Instead of the traditional Engine Number One.
On Mrs. Elmer Rodweller's side of the family,there was great-uncle Harley Quick in Engine Company Number One.
And there was another, great-uncle. William J. Coan.
Raymond Rodweller, brother of-the chief was, of course, a fireman — member Number One. But he's famous in another way: his daughter, 18-year-old, daughter, Hannah, became the first woman to join one of Princeton's volunteer fire companies.
An independent 18-year-old, Hannah joined Hook and Ladder in 1975. Why? "I had friends in the company" (She has since moved away from Princeton.)
But it was said at the time "A Rodweller in Hook and Ladder??!", what was Princeton coming to?
Seven Crown Children. Chief Rodweller and his wife, Jean, have seven children, but none is a member of a fire company. The three boys and four girls all live outside Prineeton although son David is a Princeton University proctor.
As a matter of record, Elmer, Leo, William and William J. were all Borough police officers — Elmer, for 21 years. That's in addition to the fire-fighting, of course, and for many of them, Rescue Squad work as well.
A Life Saver. The chief, for example, received a Life Saving Certificate about a dozen years ago for using CPR and mouth-to-mouth to revive a Bank Street resident whose Heart had stopped.
Until 1964, the Rescue Squad was housed in the Chestnut Street firehouse that is the house of Engine Number One. Because the Squad had been developed by Elmer Rodweller as an adjunct to Engine Number One, members belonged to both Squad and fire company. Chief Rodweller, now in his 42nd year as fireman, was in the Squad for 31 years — until 1972.
"I resigned from the Squad because I had to put in so much overtime on my job — I was with New Jersey Bell Telephone from '41 until I retired in 76. and in my last 21 years, I was supervisor of outside-plant construction.
"I was in charge of all cables, wires — aerial and underground — working out of Trenton, and I was on 'trouble'. That meant if a bad storm broke, I might be out even overnight."
Chestnut Street Life. Chestnut Street is the matrix, focus and center- of Chief Rodweller's life. He was born in the house at 6 Chestnut. He went to St Paul's School from Chestnut Street and walked from there to Princeton High, where he was graduated in 1938.
Except for three years in the Marine Corps — with service on Guadalcanal and Guam and a wound to testify to his presence — he has lived on Chestnut Street. He and Jean had a small apartment there for two years, and then they moved to 14, where they live now. Mrs. Rodwelter, a registered nurse, is with Princeton Surgical Associates.
But his eye is not on the past. As chief, he has some ideas. No, he's not ready to outline them in public yet; first, he wants to discuss them with the Board of Engineers, governing body of the fire companies.
Will it be a busy year? Since, nobody can predict when fire will strike or how seriously, nobody knows. But the fishing and the furniture re-finishing that have kept the chief busier since retirement than he ever thought he'd be, may have to be set aside for awhile.
—Katharine H. Bretnall
---
Photo Caption:
THE CHIEF: The 1983 Fire Chief for Princeton is William E. Rodweller, who lives directly across Chestnut Street from the firehouse of his company, Princeton Engine Number One. He has taken on the job of chief mechanic for the company's splendid old (11 years) pumper and is proud of its condition and the polish that has won it awards for equipment appearance. This year, he's entitled to use the bright red Chief's car, Shown here.