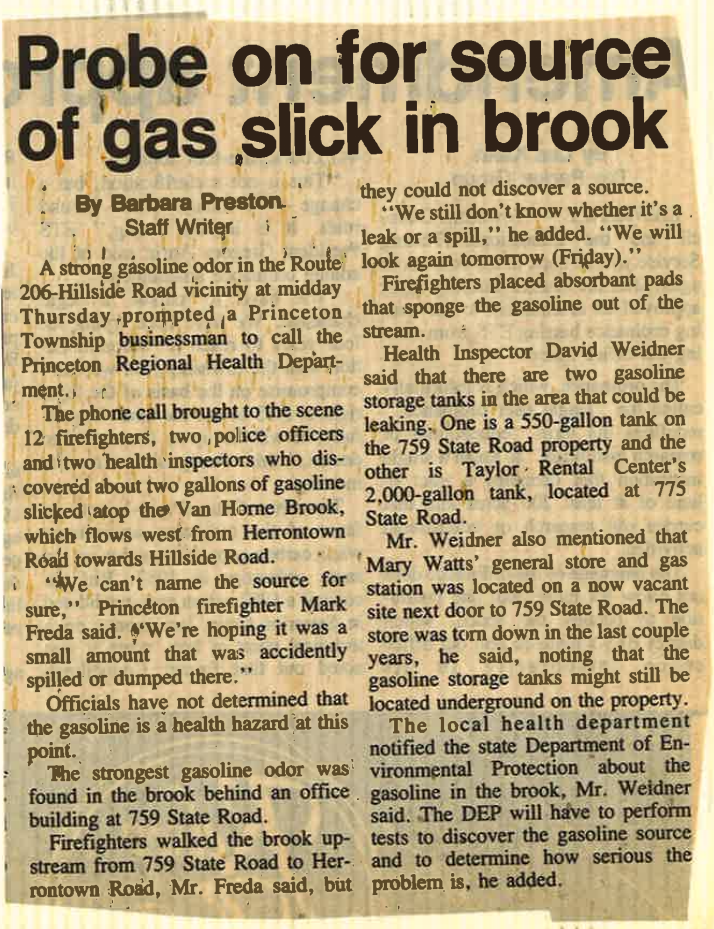 25 October, 1988 (~estimated)
Probe on for source of gas slick in brook
By Barbara Preston
Staff Writer
A strong gasoline odor in the Route 206-Hillside Road vicinity at midday Thursday, prompted is Princeton Township businessman to call the Princeton Regional Health Department.
The phone call brought to the scene 12 firefighters, two police officers and two health inspectors who discovered about two gallons of gasoline slicked atop the Van Horne Brook, which flows west from Herrontown Road towards Hillside Road.
"We can't name the source for sure," Princeton firefighter Mark Freda said. "We're hoping it was a small amount that was accidently spilled or clumped them."
Officials have not determined that the gasoline is a health hazard at this point.
The strongest gasoline odor was found in the brook behind an office building at 759 State Road.
Firefighters walked the brook upstream from 759 State Road to Herrontown Paid, Mr. Freda said, but they could not discover a source
"We still don't know whether it's a leak or a spill," he added. "We will look again tomorrow (Friklay)."
Firefighters placed absorbent pads that sponge the gasoline out of the stream.
Health Inspector David Weidner said that there are two gasoline storage tanks in the area that could be leaking. One is a 550-gallon tank on the 759 State Road property and the other is Taylor Rental Center 2.000-gallon tank, located at 775 State Road.
Mr. Weidner also mentioned that Mary Watts' general store and gas station was located on a now vacant site next door to 759 State Road. The store was torn down in the last couple years, he said, noting that the gasoline storage tanks might still be located underground on the property.
The local health department notified the state Department of Environmental Protection about the gasoline in the brook, Mr. Weidner said. The DEP will have to perform tests to discover the gasoline source and to determine how serious the problem is, he added.