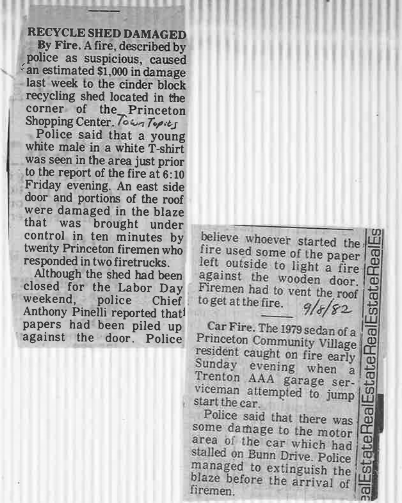 Town Topics
8 September 1982
Recycle Shed Damaged
RECYCLE SHED DAMAGED By Fire. A fire, described by police as suspicious, caused an estimated $1,000 in damage last week to the cinder block recycling shed located in the corner of the Princeton Shopping Center.
Police said that a young white male in a white T-shirt was seen in the area just prior to the report of the fire at 6:10 Friday evening. An east side door and portions of the roof were damaged in the blaze that was brought under control in ten minutes by twenty Princeton firemen who responded in two firetrucks.
Although the shed had been closed for the Labor Day weekend, police Chief Anthony Pinelli reported that papers had been piled up against the door. Police believe whoever started the fire used some of the paper left outside to light a fire against the wooden door. Firemen had to vent the roof to get at the fire.
---
Car Fire. The 1979 sedan of a Princeton Community Village resident caught on fire early Sunday evening when a Trenton AAA garage serviceman attempted to jump start the car.
Police said that there was some damage to the motor area of the car which had stalled on Bunn Drive. Police managed to extinguish the blaze before the arrival of firemen.