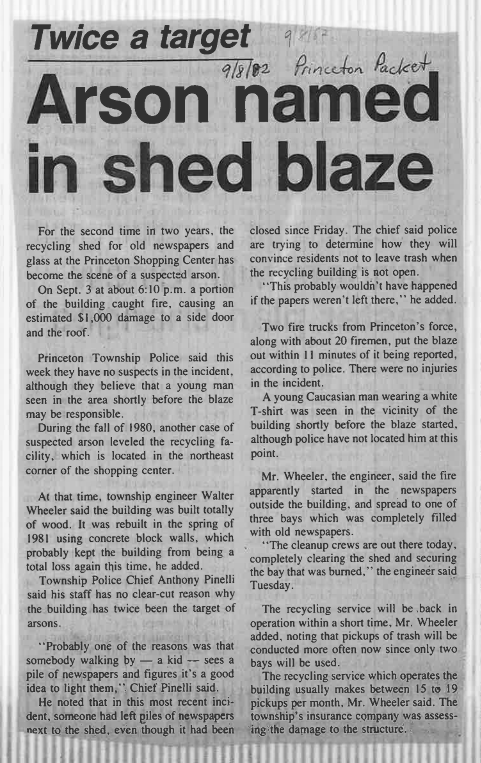 Princeton Packet
8 September 1982
Twice a target:
Arson named in shed blaze
For the second lime in two years, the recycling shed for old newspapers and glass at the Princeton Shopping Center has become the scene of a suspected arson.
On Sept. 3 at about 6:10 p.m. a portion of the building caught fire, causing an estimated $1,000 damage to a side door and the roof.
Princeton Township Police said this week they have no suspects in the incident, although they believe that a young man seen in the area shortly before the blaze may be responsible.
During the fall of 1980, another case of suspected arson leveled the recycling facility. which is located in the northeast comer of the shopping center.
At that time, township engineer Walter Wheeler said the building was built totally of wood. It was rebuilt in the spring of 1981 using concrete block walls, which probably kept the building from being a total loss again this time, he added.
Township Police Chief Anthony Pinetli said his staff has no clear-cut reason why the building has twice been the target of arsons.
"Probably one of the reasons was that somebody walking by — a kid — sees a pile of newspapers and figures it's a good idea to light them," Chief Pinclli said.
He noted that in this most recent incident. someone had left piles of newspapers next to the shed, even though it had been
closed since Friday. The chief said police are trying to determine how they will convince residents not to leave trash when the recycling building is not open.
"This probably wouldn't have happened if the papers weren't left there." he added.
Two fire trucks from Princeton's force, along with about 20 firemen, put the blaze out within 11 minutes of it being reported, according to police. There were no injuries in the incident.
A young Caucasian man wearing a white T-shirt was seen in the vicinity of the building shortly before the blaze started, although police have not located him at this point.
Mr. Wheeler, the engineer, said the fire apparently started in the newspapers outside the building, and spread to one of three bays which was completely filled with old newspapers.
"The cleanup crews are out there today, completely clearing the shed and securing the bay that was burned,'' the engineer said Tuesday.
The recycling service will be back in operation within a short time. Mr. Wheeler added, noting that pickups of trash will be conducted more often now since only two bays will be used.
The recycling service which operates the building usually makes between 15 to 19 pickups per month. Mr. Wheeler said. The township's insurance company was assessing the damage to the structure.