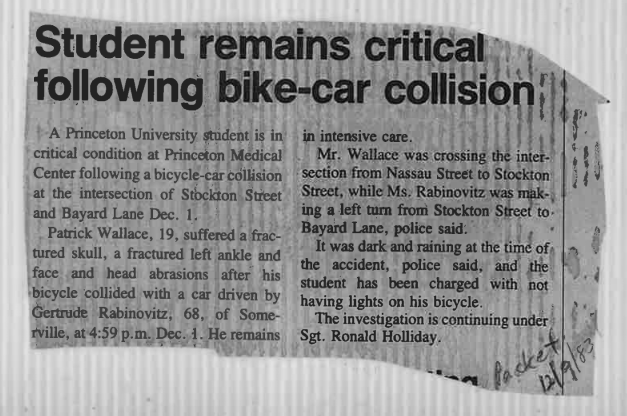 Princeton Packet
9 December 1983
Student remains critical following bike-car collision
A Princeton University student is in critical condition at Princeton Medical Center following a bicycle-car collision at the intersection of Stockton Street and Bayard Lane Dec. 1.
Patrick Wallace, 19, suffered a fractured skull, a fractured left ankle and face and head abrasions after his bicycle collided with a car driven by Gertrude Rabinovitz, 68, of Somerville, at 4:59 p.m. Dec. 1. He remains
in intensive care.
Mr. Wallace was crossing the intersection from Nassau Street to Stockton Street, while Ms. Rabinovitz was making a left turn from Stockton Street to Bayard Lane, police said.
It was dark and raining at the time of the accident, police said, and the student has been charged with not having lights on his bicycle.
The investigation is continuing under Sgt. Ronald Holliday.