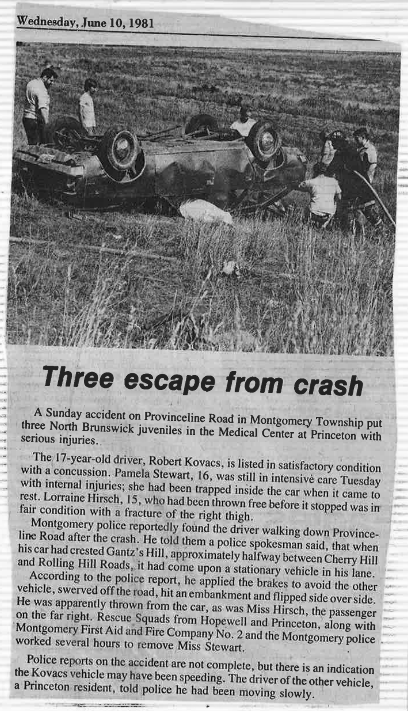 Princeton Packet
10 June 1981
Three escape from crash
A Sunday accident on Provinceline Road in Montgomery Township put three North Brunswick juveniles in the Medical Center at Princeton with serious injuries.
The 17-year-old driver, Robert Kovacs, is listed in satisfactory condition with a concussion. Pamela Stewart, 16, was still in intensive care Tuesday with internal injuries; she had been trapped inside the car when it came to rest. Lorraine Hirsch, 15, who had been thrown free before it stopped was in fair condition with a fracture of the right thigh.
Montgomery police reportedly found the driver walking down Provinceline Road after the crash. He told them a police spokesman said, that when his car had crested Guntz's Hill, approximately halfway between Cherry Hill and Rolling Hill Roads, it had come upon a stationary vehicle in his lane.
According to the police report, he applied the brakes to avoid the other vehicle, swerved off the road, hit an embankment and flipped side over side. He was apparently thrown from the car, as was Miss Hirsch, the passenger on the far right. Rescue Squads from Hopewell and Princeton, along with Montgomery First Aid and Fire Company No. 2 and the Montgomery police worked several hours to remove Miss Stewart.
Police reports on the accident are not complete, but there is an indication the Kovacs vehicle may have been speeding. The driver of the other vehicle, a Princeton resident, told police he had been moving slowly.