Princeton Packet
12 December 1979
Truck-car collision ties up Route 206
by Tom Lederer
Staff Writer
An East Windsor woman and her 11- year-old daughter injured and Route 206 was completely blocked last Friday as a result of the collision of a car with a tractor trailer.
The accident occurred at 1:55 p.m. between Ewing Street and Arreton Drive, in Princeton. Traffic was diverted to Mount Lucas Road.
According to police, Linda M. Teichman of 123 Bennington Drive, East Windsor, was heading north on Route 206 when her car suddenly crossed over the center line about four feet into the south-bound lane.
A WITNESS. James Toia, 18, of Ponte Verde, Fla., was driving about 30 yards behind the Teichman car. He told police the car then collided with a truck traveling in the opposite direction.
The truck driver, Edward C Jorgenson, 32, of 2366 Nottingham Way, Trenton, told police he saw the car coming into his lane and applied his brakes but could not avoid the collision.
Mrs. Teichman later said she orly remembered driving on Route 206 but nothing about the accident. Her daughter said she was taking a nap when the accident occurred.
The trailing car, driven by Mr. Toia, was slightly damaged in the resulting collision.
The truck was left partially jackknifed across both lanes of the road with a wheel missing where the impact occurred. The left front end of the Teichman car was heavily damaged.
MRS. TEICHMAN sustained injury to her teeth, mouth, eye and sternum, and is listed in satisfactory condition in Princeton Medical Center. Her daughter, Jodi, sustained a back injury and an eye injury and was later released from the hospital.
Both are wearing seat and shoulder belts. Mrs. Teichman was charged with failure to keep right.
Mr. Jorgenson, the truck driver, complained of pain in his chest and lower leg but refused treatment.
---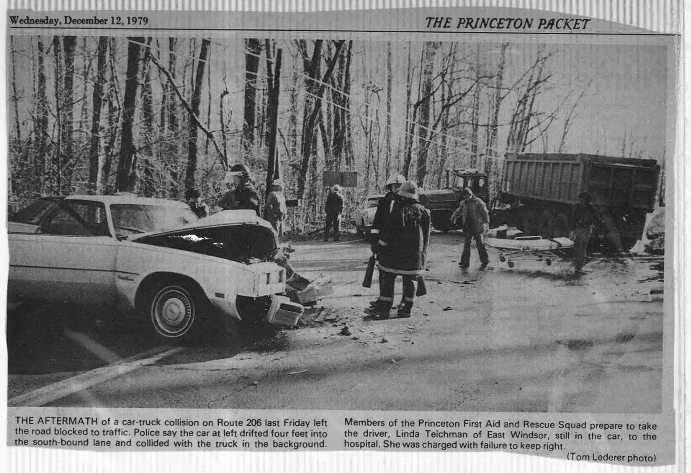 THE AFTERMATH of a car-truck collision on Route 206 last Friday left the road blocked to traffic. Police say the car at left drifted four feet into the south bound lane and collided with the truck in the background. Members of the Princeton First Aid and Rescue Squad prepare to take the driver, Linda Teichman of East Windsor, still in the car, to the hospital. She was charged with failure to keep right.
(Tom Lederer photo)
---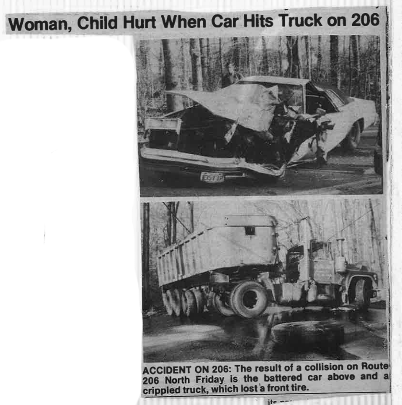 Woman, Child Hurt When Cat Hits Truck on 206
ACCIDENT ON 206: The result of a collision on Route 206 North Friday is the battered car above and a crippled truck, which lost a front tire.