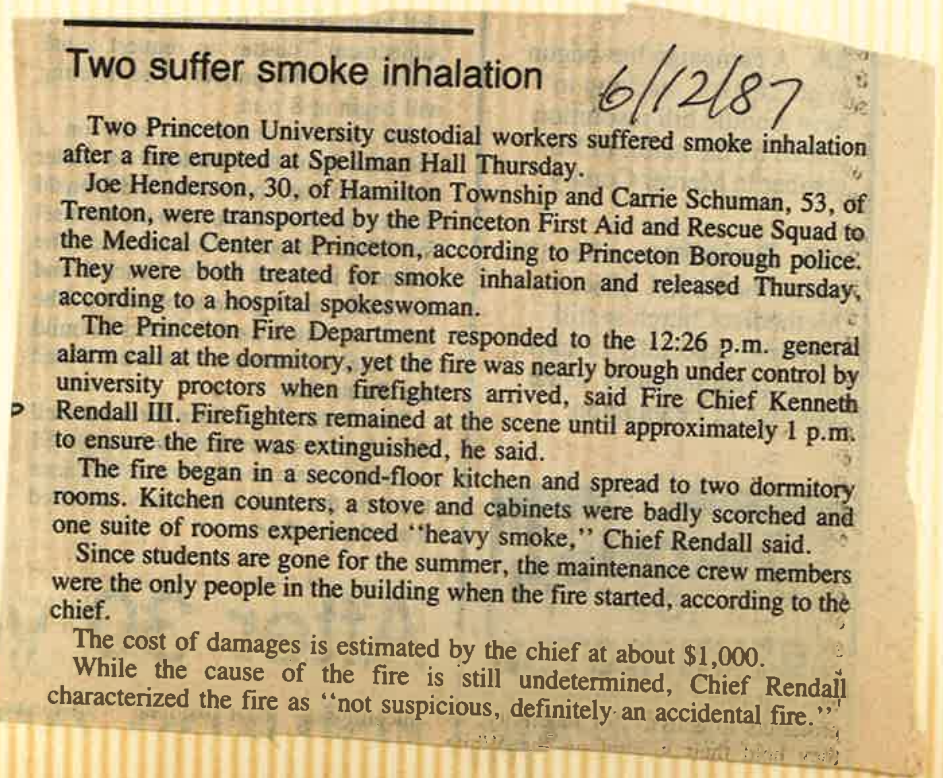 Princeton Packet
12 June, 1987
Two suffer smoke inhalation 
Two Princeton University custodial workers suffered smoke inhalation after a fire erupted at Spellman Hall Thursday.
Joe Henderson, 30, of Hamilton Township and Carrie Schuman, 53, of Trenton, were transported by the Princeton First Aid and Rescue Squad to the Medical Center at Princeton, according to Princeton Borough police. They were both treated for smoke inhalation and released Thursday, according to a hospital spokeswoman.
The Princeton Fire Department responded to the 12:26 p.m. general alarm call at the dormitory, yet the fire was nearly brought under control by university proctors when firefighters arrived, said Fire Chief Kenneth Rendall Ill. Firefighters remained at the scene until approximately 1 p.m. to ensure the fire was extinguished, he said.
The fire began in a second-floor kitchen and spread to two dormitory rooms. Kitchen counters, a stove and cabinets were badly scorched and one suite of rooms experienced "heavy smoke," Chief Rendall said.
Since students are gone for the summer, the maintenance crew members were the only people in the building when the fire started, according to the chief.
The cost of damages is estimated by the chief at about $1,000. While the cause of the fire is still undetermined, Chief Rendall characterized the fire as "not suspicious, definitely, an accidental fire."