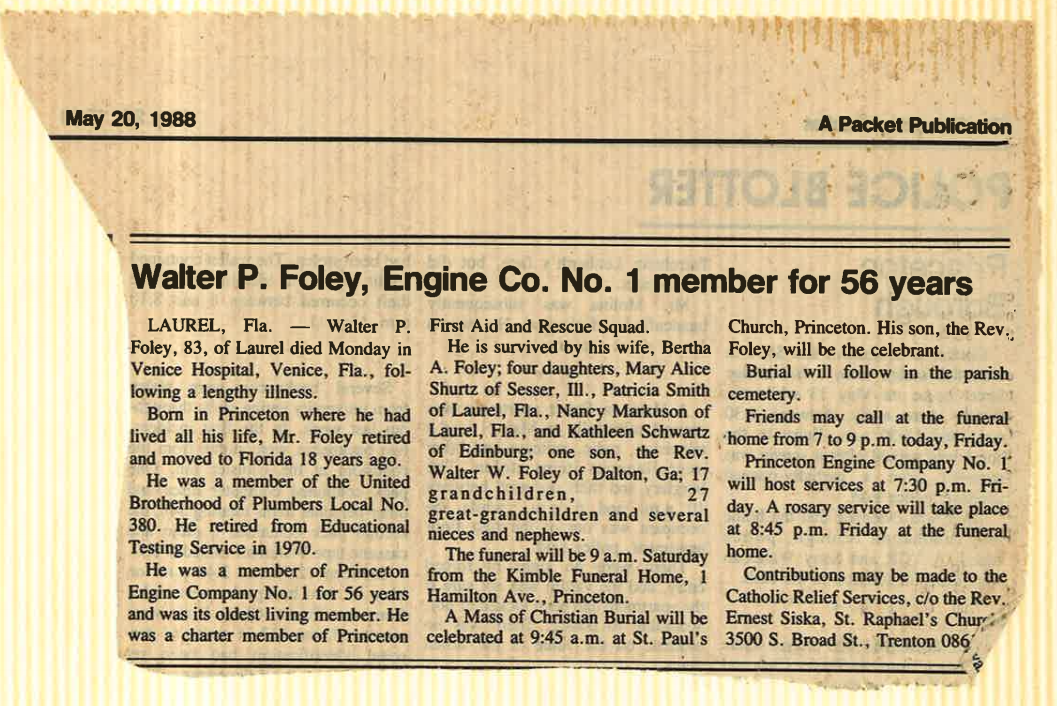 Princeton Packet
20 May, 1988
Walter P. Foley, Engine Co, No. 1 member for 56 years
LAUREL, Fla. — Walter P. Foley, 83, of Laurel died Monday in Venice Hospital, Venice, Fla., following a lengthy illness.
Born in Princeton where he had lived all his life, Mr. Foley retired and moved to Florida 18 years ago.
He was a member of the United Brotherhood of Plumbers Local No. 380. He retired from Educational Testing Service in 1970.
He was a member of Princeton Engine Company No. I for 56 years and was its oldest living member. He was a charter member of Princeton First Aid and Rescue Squad.
He is survived by his wife, Bertha A. Foley; four daughters, Mary Alice Shurtz of Sesser, Ill., Patricia Smith of Laurel, Ha., Nancy Markuson of Laurel, Fla., and Kathleen Schwartz of Edinburg; one son, the Rev. Walter W. Foley of Dalton, Ga: 17 grandchildren, 27 great-grandchildren and several nieces and nephews.
The funeral will be 9 a.m. Saturday from the Kimble Funeral Home, 1 Hamilton Ave., Princeton. A Mass of Christian Burial will be celebrated at 9:45 a.m. at St. Paul's Church, Princeton. His son, the Rev., Foley, will be the celebrant.
Burial will follow in the parish cemetery.
Friends may call at the funeral home from 7 to 9 p.m. today, Friday.
Princeton Engine Company No. I' will host services at 7:30 p.m. Fri-day. A rosary service will take place at 8:45 p.m. Friday at the funeral home.
Contributions may be made to the Catholic Relief Services. do the Rev. Ernest Siska. St. Raphael's Church: 3500 S. Broad St., Trenton 086′