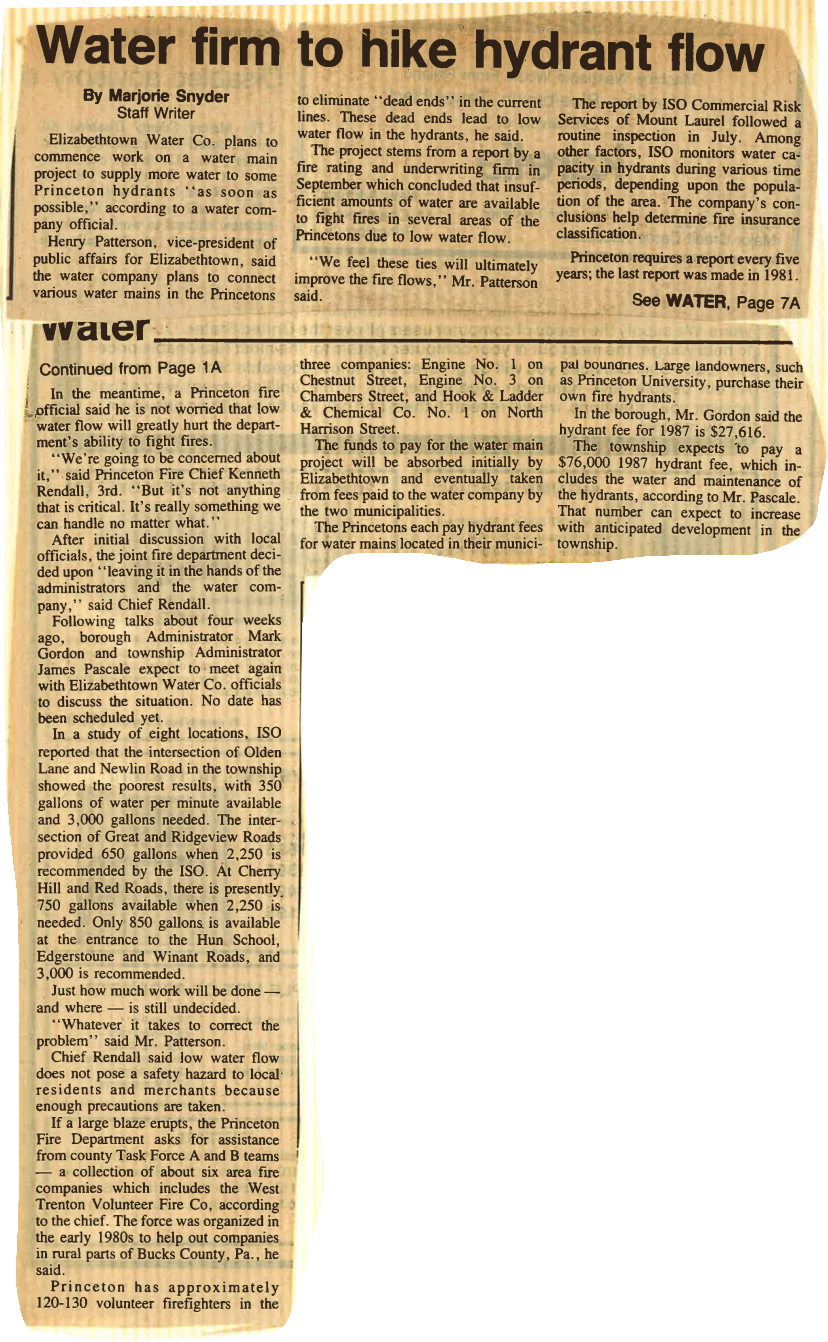 Princeton Packet
20 April 1988 (~estimated)
Water firm to hike hydrant flow
By Major Snyder
Staff Writer
Elizabethtown Water Co. plans to commence work on a water main project to supply more water to some Princeton hydrants as soon as possible," according to a water company official.
Henry Patterson, vice-president of public affairs for Elizabethtown, said the water company plans to connect various water mains in the Princetons to eliminate "dead ends" in the current lines. These dead ends lead to low water flow in the hydrants, he said.
The project stems from a report by a fire rating and underwriting firm in September which concluded that insufficient amounts of water are available to fight fires in several areas of the Princetons due to low water flow.
"We feel these ties will ultimately improve the fire flows," Mr. Patterson said.
The report by ISO Commercial Risk Services of Mount Laurel followed a routine inspection in July. Among other factors, ISO monitors water capacity in hydrants during various time periods, depending upon the population of the area. The company's conclusions help determine fire insurance classification.
Princeton requires a report every five years; the last report was made in 1981.
In the meantime, a Princeton fire official said he is not worried that low water flow will greatly hurt the department's ability to fight fires.
"We're going to be concerned about it," said Princeton Fire Chief Kenneth Kendall, 3rd. "But it's not anything that is critical. It's really something we can handle no matter what."
After initial discussion with local officials, the joint fire department decided upon "leaving it in the hands of the administrators and the water company," said Chief Kendall.
Following talks about four weeks ago, borough Administrator Mark Gordon and township Administrator James Pascale expect to meet again with Elizabethtown Water Co. officials to discuss the situation. No date has been scheduled yet.
In a study of eight locations, ISO reported that the intersection of Olden Lane and Newlin Road in the township showed the poorest results, with 350 gallons of water per minute available and 3,000 gallons needed. The intersection of Great and Ridgeview Roads provided 650 gallons when 2,250 is recommended by the ISO. At Cherry Hill and Red Roads, there is presently, 750 gallons available when 2,250 is needed. Only 850 gallons is available at the entrance to the Hun School, Edgerstoune and Winant Roads, and 3,000 is recommended.
Just how much work will be done —and where — is still undecided.
"Whatever it takes to correct the problem" said Mr. Patterson.
Chief Rendall said low water flow does not pose a safety hazard to local. residents and merchants because enough precautions are taken.
If a large blaze erupts, the Princeton Fire Department asks for assistance from county Task Force A and B teams — a collection of about six area fire companies which includes the West Trenton Volunteer Fire Co, according to the chief. The force was organized in the early 1980s to help out companies in rural parts of Bucks County, Pa., he said.
Princeton has approximately 120-130 volunteer firefighters in the three companies: Engine No. 1 on Chestnut Street, Engine No. 3 on Chambers Street, and Hook & Ladder & Chemical Co. No. 1 on North Harrison Street.
The funds to pay for the water main project will be absorbed initially by Elizabethtown and eventually taken from fees paid to the water company by the two municipalities.
The Princetons each pay hydrant fees for water mains located in their municipal boundaries. Large landowners such as Princeton University, purchase their own fire hydrants.
In the borough, Mr. Gordon said the hydrant fee for 1987 is $27,616.
The township expects to pay a $76,000 1987 hydrant fee, which includes the water and maintenance of the hydrants, according to Mr. Pascale. That number can expect to increase with anticipated development in the township.