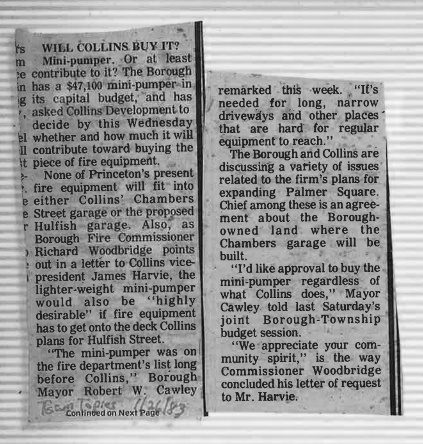 Town Topics
26 January 1983
Will Collins buy it?
Mini-pumper. Or at least contribute to it? The Borough has a $47,100 mini-pumper in its capital budget, and has asked Collins Development to decide by this Wednesday whether and how much it will contribute toward buying the piece of fire equipment.
None of Princeton's present fire equipment will fit into either Collins' Chambers Street garage or the proposed Hulfish garage. Also: as Borough Fire Commissioner Richard Woodbridge points out in a letter to Collins vice president James Harvie, the lighter-weight mini-pumper would also be "highly desirable" if fire equipment has to get onto the deck Collins plans for Hulfish Street.
"The mini-pumper was on the fire department's list long before Collins." Borough Mayor Robert W. Cawley remarked this week  needed for long, narrow driveways and other places that are hard for regular equipment to reach."
The Borough and Collins are discussing a variety of issues related to the firm's plans for expanding Palmer Square. Chief among these is an agreement about the Borough- owned land where the Chambers garage will be built.
"I'd like approval to buy the mini-pumper regardless of what Collins does," Mayor Cawley told last Saturday's joint Borough-Township budget session.
"We appreciate your community spirit," is the way Commissioner Woodbridge concluded his letter of request to Mr. Harvie.