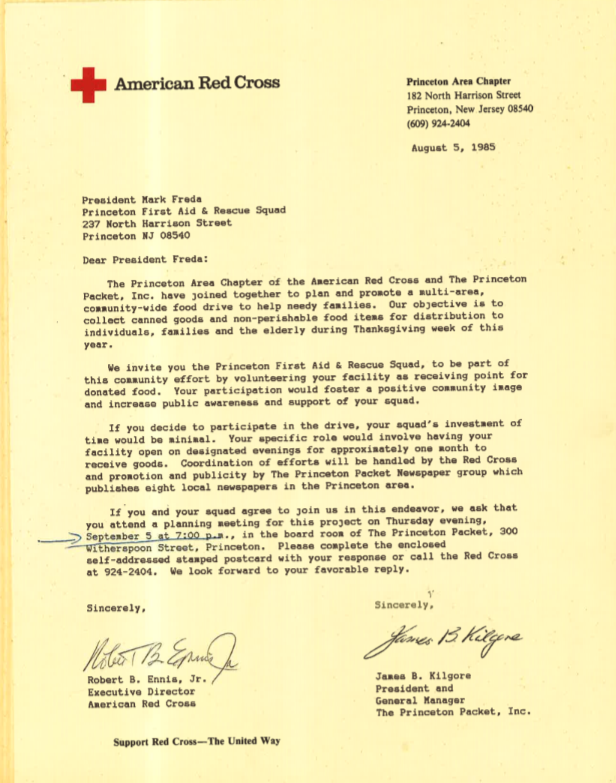 Princeton Area Chapter
182 North Harmon Street
Princeton. New Jersey 08540
(609) 924-2404
August 5, 1985
President Mark Freda
Princeton First Aid & Rescue Squad
237 North Harrison Street
Princeton NJ 08540
Dear President Freda:
The Princeton Area Chapter of the American Red Cross and The Princeton Packet, Inc. have joined together to plan and promote a multi-area, community-wide food drive to help needy families. Our objective is to collect canned goods and non-perishable food items for distribution to individuals, families and the elderly during Thanksgiving week of this year.
We invite you the Princeton First Aid & Rescue Squad, to be part of this community effort by volunteering your facility as receiving point for donated food. Your participation would footer a positive community image and increase public awareness and support of your squad.
If you decide to participate in the drive, your &quad's investment of tine would be (animal. Your specific role would involve having your facility open on designated evenings for approximately one month to receive goods. Coordination of efforts will be handled by the Red Cross and promotion and publicity by The Princeton Packet Newspaper group which publishes eight local newspapers in the Princeton are..
If you and your *quad agree to join us in this endeavor. we ask that you attend a planning meeting for this project on Thursday evening, September 5 at 7:00 p s., in the board room of The Princeton Packet, 300  Witherspoon Street, Princeton. Please complete the enclosed self-addressed stamped postcard with your response or call the Red Cross at 924-2404. We look forward to your favorable reply.
Sincerely,                                                                                                            Sincerely,
Robert D. Ennio. Jr.                                                                                        Saes B. Kilgore President
Executive Director                                                                                          and General Manager
The Princeton Packet, Inc.