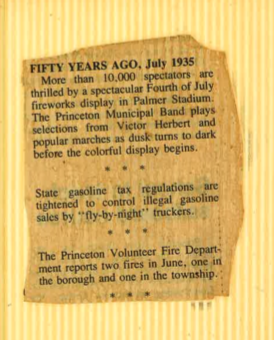 FIFTY YEARS AGO, July 1935
More than 10,000 spectators are thrilled by a spectacular Fourth of July fireworks display in Palmer Stadium. The Princeton Municipal Band plays selections from Victor Herbert and popular marches as dusk turns to dark before the colorful display begins.
*  *  *
State gasoline tax regulations are tightened to control illegal gasoline sales by "fly-by-night" truckers.
*  *  *
The Princeton Volunteer Fire Department reports two fires in June, one in the borough and one in the township.
*  *  *