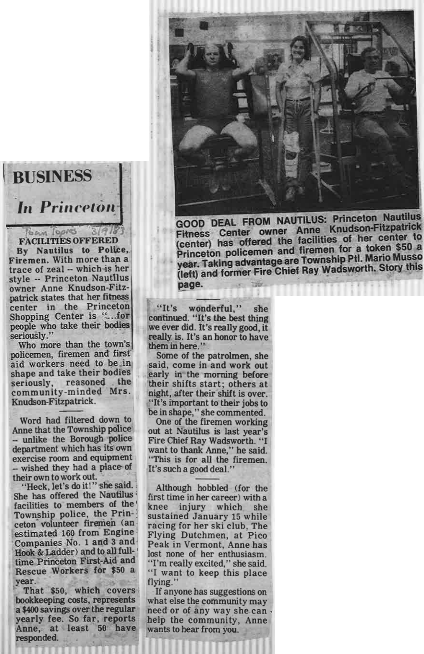 Town Topics
9 March 1983
Business in Princeton
FACILITIES OFFERED
By Nautilus to Police, Firemen. With more than a trace of zeal – which is her style – Princeton Nautilus owner Anne Knudson-Fitzpatrick states that her fitness center in the Princeton Shopping Center is "..for people who take their bodies seriously."
Who more than the town's policemen, firemen and first aid workers need to be in shape and take their bodies seriously, reasoned the community-minded Mrs. Knudson-Fitzpatrick.
Word had filtered down to Anne that the Township police unlike the Borough police department which has its own exercise room and equipment wished they had a place of their own to work out.
"Heck, let's do it! " she said. She has offered the Nautilus facilities to members of the Township police, the Princeton volunteer firemen (an estimated 160 from Engine Companies No. 1 and 3 and Hook & Ladder) and to all fulltime Princeton First-Aid and Rescue Workers for $50 a year.
That $50, which covers bookkeeping costs, represents a $400 savings over the regular yearly fee. So far, reports Anne, at least 50 have responded.
"It's wonderful," she continued. "It's the best thing we ever did. It's really good, it really is. It's an honor to have them in here."
Some of the patrolmen, she said, come in and work out early in the morning before their shifts start; others at night, after their shift is over. "It's important to their jobs to be in shape," she commented.
One of the firemen working out at Nautilus is last year's Fire Chief Ray Wadsworth. "I want to thank Anne," he said. "This is for all the firemen. It's such a good deal."
Although hobbled (for the first time in her career) with a knee injury which she sustained January 15 while racing for her ski club, The Flying Dutchmen, at Pico Peak in Vermont, Anne has lost none of her enthusiasm. "I'm really excited," she said. "I want to keep this place flying."
If anyone has suggestions on what else the community may need or of any way she can help the community, Anne wants to hear from you.
---
Photo Caption:
GOOD DEAL FROM NAUTILUS: Prince ton Nautilus Fitness Center owner Anne Knudson-Fitzpatrick (center) has offered the facilities of her center to Princeton policemen and firemen for a token $50 a year. Taking advantage are Township Ptl. Mario Musso (left) and former Fire Chief Ray Wadsworth. Story this page.