Town Topics
9 March 1983
Landau's Gift
Spur to Others? When Henry and Robert Landau decided to donate money for fire and rescue equipment, they had more in mind than the needs of Fire Department and First Aid and Rescue Squad.
"We'd had a good year, we wanted to show our appreciation for what the town has for us and our store in 28 years, and we hoped we would inspire other merchants to do the same kind of thing," Henry says.
"Everybody gives to the United Way, almost automatically, but there are so many other things that need business and local support, and businesses are lethargic, sometimes. We decided to give, not only to the Squad and Fire Department, but to three other things in town — the library, the 'Y' and the Town Topics Christmas Fund.
"to inspire other merchants – that's our intent"
Mr. Landau added that Carol Obert, wife of Squad captain, and Sandy Sussman a Squad volunteer, both work in the store. Ms. Sussman, in fact, wears her Squad beeper to work.
No he won't say how much money they gave. "That would be kind of tacky"
---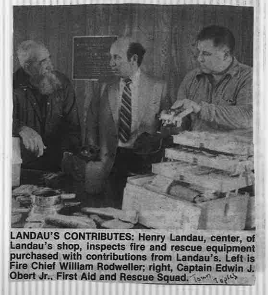 Photo Caption:
LANDAU'S CONTRIBUTES: Henry Landau, center, of Landau's shop, inspects fire and rescue equipment purchased with contributions from Landau's. Left is Fire Chief William Rodweller; right, Captain Edwin J. Obert Jr., First Aid and Rescue Squad.