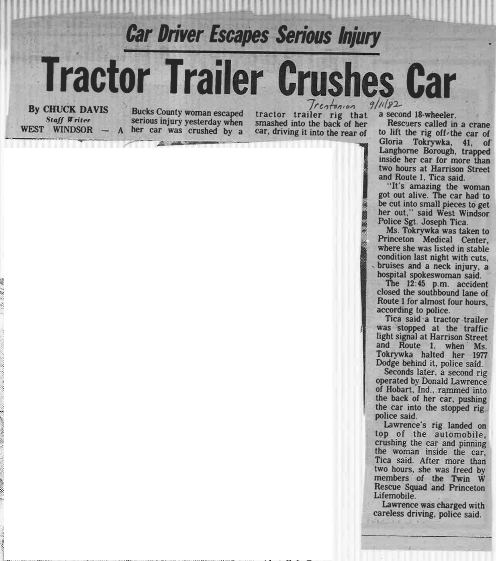 The Trentonian
11 September 1982
Car Driver Escapes Serious Injury:
Tractor Trailer Crushes Car
By Chuck Davis
Staff Writer
WEST WINDSOR – A Bucks County woman escaped serious injury yesterday when her car was crushed by a tractor trailer rig that smashed into the back of her car, driving it into the rear of a second 18-wheeler.
Rescuers called in a crane to lift the rig off'the car of Gloria Tokrywka, 41, of Langhome Borough, trapped inside her car for more than two hours at Harrison Street and Route 1, Tica said.
"It's amazing the woman got out alive. The car had to be cut into small pieces to get her out." said West Windsor Police Sgt Joseph Tica.
Ms. Tokrywka was taken to Princeton Medical Center, where she was listed in stable condition last night with cuts, bruises and a neck injury, a hospital spokeswoman said.
The 12:45 p.m. accident closed the southbound lane of Route 1 for almost four hours, according to police.
Tica said a tractor trailer was stopped at the traffic light signal at Harrison Street and Route 1, when Ms. Tokrywka halted her 1977 Dodge behind it, police said.
Seconds later, a second rig operated by Donald Lawrence of Hobart. Ind., rammed into the back of her car, pushing the car into the stopped rig police said.
Lawrence's rig landed on top of the automobile, crushing the car and pinning the woman inside the car, Tica said. After more than two hours, she was freed by members of the Twin W Rescue Squad and Princeton Lifemobile.
Lawrence was charged with careless driving, police said.