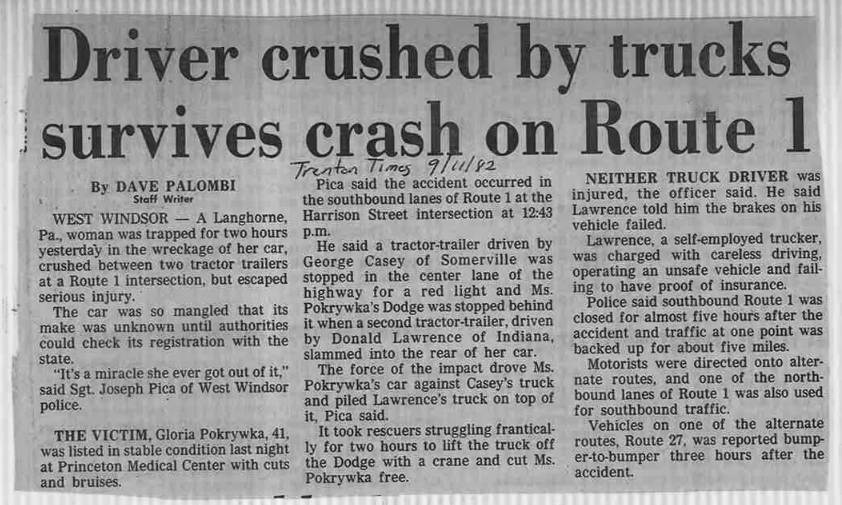 Trenton Times
11 September 1982
Driver crushed by trucks survives crash on Route 1
By DAVE PALOMBI
Staff Writer
WEST WINDSOR — A Langhorne, Pa., woman was trapped for two hours yesterday in the wreckage of her car. crushed between two tractor trailers at a Route 1 intersection, but escaped serious injury.
The car was so mangled that its make was unknown until authorities could check its registration with the state.
"It's a miracle she ever got out of it." said Sgt. Joseph Pica of West Windsor police.
THE VICTIM. Gloria Pokrvwka, 41, was listed in stable condition last night at Princeton Medical Center with cuts and bruises.
Pica said the accident occurred in the southbound lanes of Route 1 at the Harrison Street intersection at 12:43 p.m.
He said a tractor-trailer driven by George Casey of Somerville was stopped in the center lane of the highway for a red light and Ms. Pokrywka's Dodge was stopped behind it when a second tractor-trailer, driven by Donald Lawrence of Indiana, slammed into the rear of her car.
The force of the impact drove Ms. Pokrywka's car against Casey's truck and piled Lawrence's truck on top of it. Pica said.
It took rescuers struggling frantically for two hours to lift the truck off the Dodge with a crane and cut Ms. Pokrywka free.
NEITHER TRUCK DRIVER was injured, the officer said. He said Lawrence told him the brakes on his vehicle failed.
Lawrence, a self-employed trucker, was charged with careless driving, operating an unsafe vehicle and failing to have proof of insurance.
Police said southbound Route 1 was closed for almost five hours after the accident and traffic at one point was backed up for about five miles.
Motorists were directed onto alternate routes, and one of the northbound lanes of Route 1 was also used for southbound traffic.
Vehicles on one of the alternate routes. Route 27. was reported bumper-to-bumper three hours after the accident.