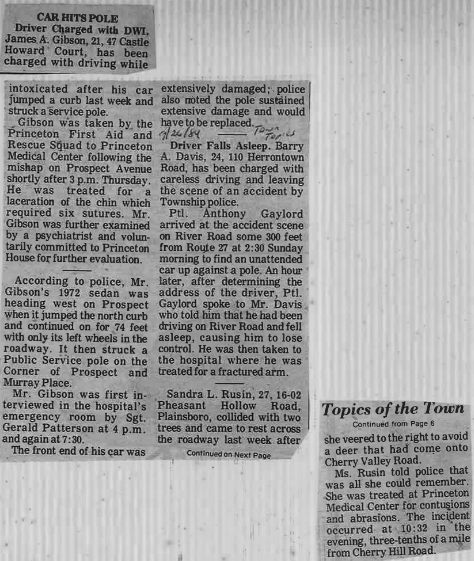 Town Topics
26 September, 1984
Car Hits Pole
Driver Charged with DWI. James A. Gibson, 21, 47 Castle Howard Court, has been charged with driving while intoxicated after his car jumped a curb last week and struck a service pole.
Gibson was taken by the Princeton First Aid and Rescue Squad to Princeton Medical Center following the mishap on Prospect Avenue shortly after 3 p.m. Thursday. He was treated for a laceration of the chin which required six sutures. Mr. Gibson was further examined by a psychiatrist and voluntarily committed to Princeton House for further evaluation.
---
According to police, Mr. Gibson's 1972 sedan was heading west on Prospect when it jumped the north curb and continued on for 74 feet with only its left wheels in the roadway. It then struck a Public Service pole on the Corner of Prospect and Murray Place.
Mr. Gibson was first interviewed in the hospital's emergency room by Sgt. Gerald Patterson at 4 p.m. and again at 7:30.
The front end of his car was extensively damaged; police also noted the pole sustained extensive damage and would have to be replaced.
---
Driver Falls Asleep. Barry A. Davis, 24, 110 Herrontown Road, has been charged with careless driving and leaving the scene of an accident by Township police.
Ptl. Anthony Gaylord arrived at the accident scene on River Road some 300 feet from Route 27 at 2:30 Sunday morning to find an unattended car up against a pole. An hour later, after determining the address of the driver, Ptl. Gaylord spoke to Mr. Davis who told him that he had been driving on River Road and fell asleep, causing him to lose control. He was then taken to the hospital where he was treated for a fractured arm.
---
Sandra L. Rusin, 27, 16-02 Pheasant Hollow Road, Plainsboro, collided with two trees and came to rest across the roadway last week after she veered to the right to avoid a deer that had come onto Cherry Valley Road.
Ms. Rusin told police that was all she could remember. She was treated at Princeton Medical Center for contusions and abrasions. The incident occurred at 10:32 in 'the evening, three-tenths of a mile from Cherry Hill Road.