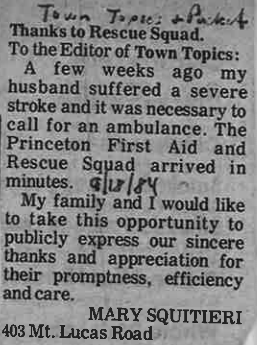 Princeton Packet & Town Topics (editorial)
18 September, 1984
Thanks to Rescue Squad
To the Editor of Town Topics :
A few weeks ago my husband suffered a severe stroke and it was necessary to call for an ambulance. The Princeton First Aid and Rescue Squad arrived in minutes.
My family and I would like to take this opportunity to publicly express our sincere thanks and appreciation for their promptness, efficiency and care.
---
Editorial author: Mary Squitieri, 403 Mt. Lucas Road