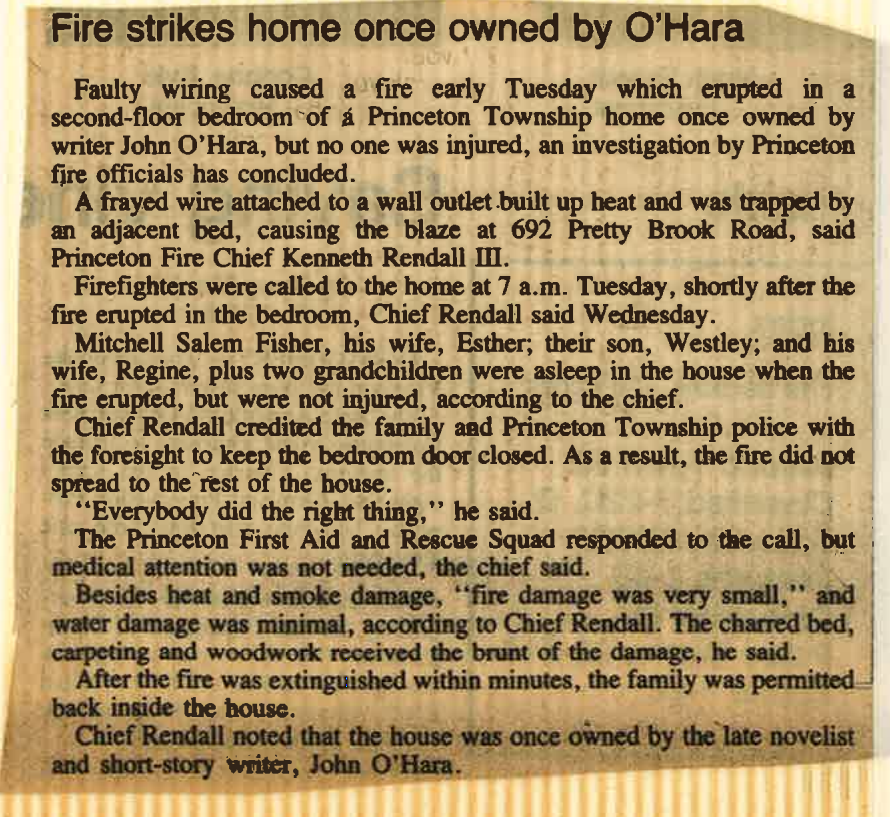 18 March, 1987
Fire strikes home once owned by O'Hara
Faulty wiring caused a fire early Tuesday which erupted in a second-floor bedroom of a Princeton Township home once owned by writer John O'Hara, but no one was injured, an investigation by Princeton fire officials has concluded.
A frayed wire attached to a wall outlet built up heat and was trapped by an adjacent bed, causing the blaze at 692 Pretty Brook Road, said Princeton Fire Chief Kenneth Rendall Ell.
Firefighters were called to the home at 7 a.m. Tuesday, shortly after the fire erupted in the bedroom, Chief Rendall said Wednesday.
Mitchell Salem Fisher, his wife, Esther; their son, Westley; and his wife, Regine, plus two grandchildren were asleep in the house when the fire erupted, but were not injured, according to the chief.
Chief Rendall credited the family and Princeton Township police with the foresight to keep the bedroom door closed. As a result, the fire did not spread to the rest of the house.
"Everybody did the right thing," he said.
The Princeton First Aid and Rescue Squad responded to the call, but medical attention was not needed, the chief said.
Besides heat and smoke damage, "fire damage was very small." and water damage was minimal, according to Chief Rendall. The charred bed, carpeting and woodwork received the brunt of the damage. he said.
After the fire was extinguished within minutes, the family was permitted back inside the house.
Chief Rendall noted that the house was once owned by the late novelist and short-stay writer, John O'Hara.