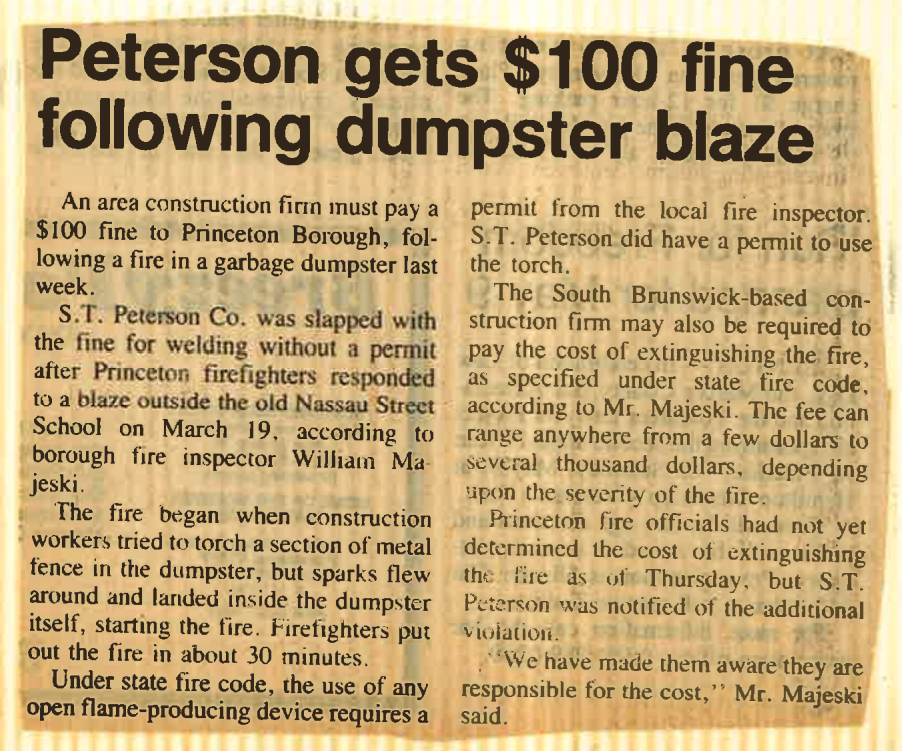 18 March, 1987
Peterson gets $100 fine following dumpster blaze
An area construction finn must pay a $100 fine to Princeton Borough, following a fire in a garbage dumpster last week.
S.T. Peterson Co. was slapped with the fine for welding without a permit after Princeton firefighters responded to a blaze outside the old Nassau Street School on March 19. according to borough fire inspector William Majeski.
The fire began when construction workers tried to torch a section of metal fence in the dumpster, but sparks flew around and landed inside the dumpster itself, starting the fire. Firefighters put out the fire in about 30 minutes.
Under state fire code, the use of any open flame-producing device requires a permit from the local fire inspector. S.T. Peterson did have a permit to use the torch.
The South Brunswick-based construction firm may also be required to pay the cost of extinguishing the fire, as specified under state tire code, according to Mr. Majeski. The fee can range anywhere from a few dollars to several thousand dollars, depending upon the severity of the fire.
Princeton fire officials had not yet determined the cost of extinguishing the fire as of Thursday. but S.T. R:terson was notified of the additional violation.
"We have made them aware they are responsible for the cost," Mr. Majeski said.