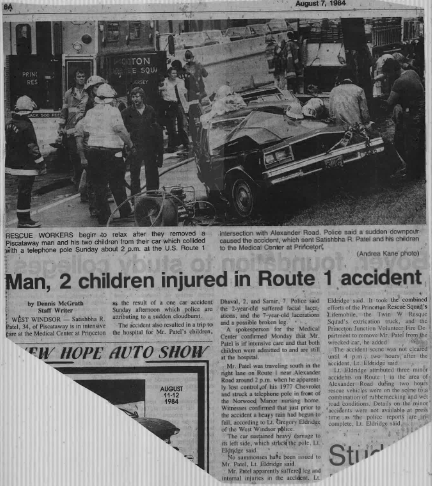 7 August, 1984
Man, 2 children injured in Route 1 accident
By Dennis McGrath, Staff Writer
WEST WINDSOR — Satishbha R. Patel, 34, of Piscataway is in intensive fare at the Medical Center at Princeton as the result of a one car accident Sunday afternoon which police are attributing to a sudden cloudburst.
The accident also resulted in a trip to the hospital for Mr. Patel's children, Dhaval, 2, and Samir, 7. Police said the 2-year-old suffered facial lacerations, and the 7-year-old lacerations and a possible broken leg.
A spokesperson for the Medical Center confirmed Monday that Mr. Patel is in intensive care and that both children were admitted to and are still at the hospital.
Mr. Patel was traveling south in the right lane on Route 1 near Alexander Road around 2 p.m. when he apparently lost control of his 1977 Chevrolet and struck a telephone pole in front of the Norwood Manor nursing home. Witnesses confirmed that just prior to the accident a heavy rain had begun to fall, according to Lt. Gregory Eldridge of the West Windsor police.
The car sustained heavy damage to its left side, which struck the pole, Lt. Eldridge said.
No summonses have been issued to Mr. Patel, Lt. Eldridge said.
Mr. Patel apparently suffered leg and internal injuries in the accident, Lt. Eldridge said. It took the combined efforts of the Princeton Rescue Squad's Lifemobile, the Twin W Rescue Squad's extrication truck, and the Princeton Junction Volunteer Hire Department to remove Mr. Patel from the wrecked car, he added.
The accident scene was not cleared until 4 p.m., two hours after the accident. Lt. Eldridge said.
Lt. Eldridge attributed three minor accidents on Route 1 in the area of Alexander Road during two hours, rescue vehicles were on the scene to a combination of rubbernecking and wet road conditions. Details on the minor accidents were not available at press time as the police reports are incomplete, Lt. Eldridge said.
---
Photo Caption:
RESCUE WORKERS begin to relax after they removed a Piscataway man and his two children from their car which collided with a telephone pole Sunday about 2 p.m. at the U S. Route 1 intersection with Alexander Road. Police said a sudden downpour caused the accident, which sent Satishbha R. Patel and his children to the Medical Center at Prirtceton
(Photo Credit: Andrea Kane photo)