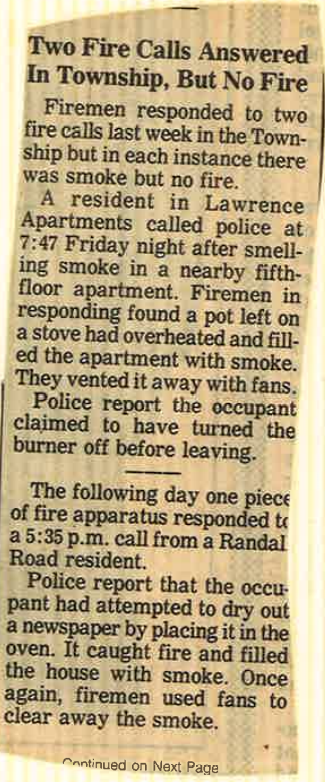 Princeton Packet
3 October, 1986
Two Fire Calls Answered In Township, But No Fire
Firemen responded to two fire calls last week in the Town-ship but in each instance there was smoke but no fire.
A resident in Lawrence Apartments called police at 7:47 Friday night after smelling smoke in a nearby fifth-floor apartment. Firemen in responding found a pot left on a stove had overheated and filled the apartment with smoke. They vented it away with fans.
Police report the occupant claimed to have turned the burner off before leaving.
---
The following day one piece of fire apparatus responded to a 5:35 p.m. call from a Randal Road resident.
Police report that the occupant had attempted to dry out a newspaper by placing it in the oven. It caught fire and filled the house with smoke. Once again, firemen used fans to clear away the smoke.