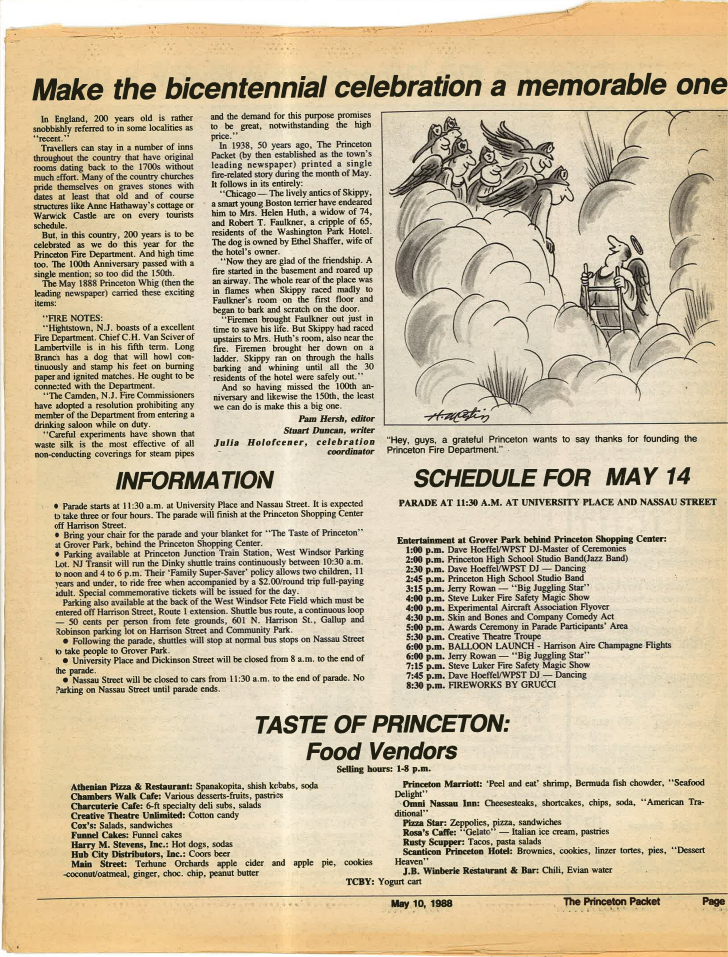 Princeton Packet
10 May, 1988
Make the bicentennial celebration a memorable one
In England, 200 years old is rather snobbishly referred to in some localities as "recent."
Travellers can stay in a number of inns throughout the country that have original rooms dating back to the 1700s without much effort. Many of the country churches pride themselves on graves stones with dates at least that old and of course structures like Anne Hathaway's cottage or Warwick Castle are on every lowish schedule.
But in this country, 200 years is to be celebrated as we do this year for the Princeton Fire Department. And high time too. The 100th Anniversary passed with a tingle mention: so too did the 150th.
The May 1888 Princeton Whig (then the leading newspaper) carted these exciting items:
"FIRE NOTES:
"Highstown, N.J. boasts of a excellent Fire Department. Chief C.H. Van Sciver of Lambertville is in his fifth term. Long Branch has a dog that will howl continuously and stamp his feet on burning paper and ignited matches. He ought to be connened who the Department.
"The Camden. N.J. Fiat Commissioners have adopted a resolution prohibiting any warder of the Department from entering a drinking saloon while on duty. "Careful experiments have shown that waste silk is the most effective of all non-conducting coverings for steam pipes and the demand for this purpose promises to be great, notwithstanding the high price.
In 1938, 50 years ago, The Princeton Packet (by then established as the town's leading newspaper) printed a single fuss-related tasty diming the month of May. It follows in its entirely:
"Chicago— The lively antics of Skippy, a smart young Boston leerier have endeared him to Mrs. Helen Huth, a widow of 74, and Rohm T. Faulkner, a cripple of 65, residents of the Washington Park Hotel. The dog is owned by Ethel Shaffer, wife of the hotel's owner.
"Now they are glad of the friendship. A fire started in the basement and roared up an airway. The whole rear of the place was in flames when Skivvy raced madly to Faulkner's room on the first Boor and began to bark andratch on the door. "Firemen brought Faulkner out just in time to save his life. But Skippy had raced upstairs to Mrs. Huth's room, also near the fire. Firemen brought her down on a ladder. Skippy ran on through the halls barking and whining until all the 30 residents of the hotel were safely out."
And no having milord the 100th anniversary and likewise the 150th. the least we can do is make this a big one.
Pam Hersh, editor
Stuart Duncan, writer
Jolla Holorerner, celebration
coordinator

---
INFORMATION
Parade starts at 11:30 a.m. at University Place and Nassau Streets. It is expected is take three or four hours. The parade will finish at the Princeton Shopping Center off Harrison Street.
Bring your chair for the parade and your blanket for "The Taste of Princeton at Grover Park. behind the Princeton Shopping Center.
Parking available at Princeton Junction Train Station, West Windsor Parking Lot NJ Transit will run the Dinky shuttle trains continuously between 10:30 a.m. to noon and 4 to 6 p.m. Thier 'Family Super-Saver' policy allows two children, 11 years and under, to ride gree when accompanied by a $2.00/round trip full-paying adult. Special commemorative tickets will be issued for the day.
Parking also available at the back of the West Windsor Fete Field which mum be inland off Harrison Street. Rome 1 extension. Shuttle bus route, a continuous loop — 50 cents per person from fete grounds. 601 N. Hanson St., Gallup and Robinson parking lot on Harrison Street and Community Park
Following the parade, shuttles will stop at normal bus stops on Nassau Street to take people to Grover Park
University Place and Dickinson Street will be closed from 8 a.m. to the end of the parade.
Nassau Street will be closed to can from 11:30 a.m. to the rod of parade. No parking on Nassau Street until parade ends.
---
SCHEDULE FOR MAY 14
PARADE AT 11:30 A.M. AT UNIVERSITY PLACE AND NASSAU STREET
Entertainment at Grover Park behind Princeton Shopping Center:
1:00 pm. Dave Hoeffel/WPST D.J.Master of Ceremonies
2:00 p.m. Princeton High School Studio Band(Jazz Band)
2:30 p.m. Dave Hoeffel/VPST DJ — Dancing
2:45 p.m. Princeton High School Studio Band
3:15 p.m. Jerry Rowan – "Bug Juggling Star"
4:00 p.m. Steve Luker Fire Safety Magic Show
4:00 p.m. Experimental Aircraft MSOC61100 Flyover
4:30 p.m. Skin and Bones and Company Comedy Act
5:00 p.m. Awards Ceremony in Parade Participants' Area
5:30 p.m. Creative Theatre Troupe
6:00 p.m. BALLOON LAUNCH – Harrison Aire Champagne Flights
6:00 p.m. leny Rowan — "Big Joggling Star"
7:15 p.m. Steve Luker Fire Safety Magic Show
7:45 p.m. Dave Hoeffel/WPST DJ — Dancing
8:30 p.m. FIREWORKS BY GRUCCI
---
TASTE OF PRINCETON:
Food Vendors
Athenian Pizza & Restaurant: Spanakopita, shish kebabs, soda
Chambers Walk Cafe: 6ft – specialty deli subs, salads
Creative Theatre Unlimited: Cotton Candy
Cox's: Salads, sandwiches
Funnel Cakes: Funnel cakes
Harry M. Stevens, Inc.: Hot dogs, sodas
Hub City Distributors, Inc.: Coors beer
Main Street: Terhune Orchards apple cider and apple pie, cookies coconut/oatmeal, ginger, choc. chip, peanut butter
Princeton Marriott: 'Peel and eat' shrimp, Bermuda fish chowder, "Seafood Delight"
Omni Nassau Inn: Cheesesteaks, shortcakes, chips, soda, "American Traditional"
Pizza Star: Zeppolies, pizza, sandwiches
Rosa's Caffe: "Gelato" — Italian ice cream, pastries
Rusty Scupper: Tacos, pasta salads
Scanticon Princeton Hotel: Brownies, cookies, linzer tortes, pies, "Desert Heaven"
TCBY : Yogurt cart