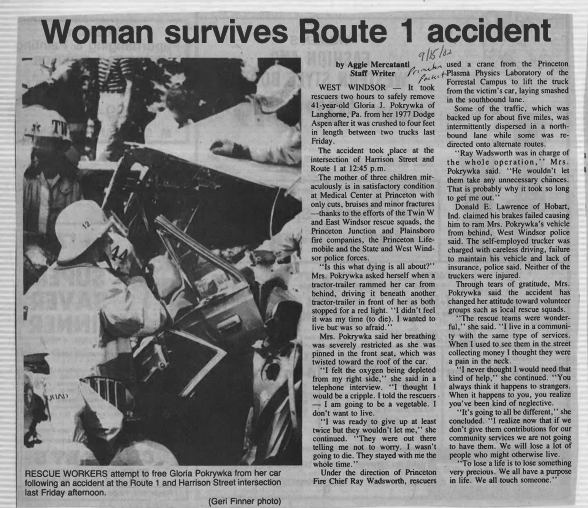 Princeton Packet
15 September 1982
Woman survives Route 1 accident
by Aggie Mercatanli
Staff Writer
WEST WINDSOR — It rescuers two hours to safely remove 41-year-old Gloria J. Pokrywka of Langhome, Pa. from her 1977 Dodge Aspen after it was crashed to four feet in length between two trucks last Friday.
The accident took place at the intersection of Harrison Street and Route 1 at 12:45 p.m.
The mother of three children miraculously is in satisfactory condition, at Medical Center at Princeton with only cuts, braises and minor fractures —thanks to the efforts of the Twin W and East Windsor rescue squads, the Princeton Junction and Plainsboro fire companies, the Princeton Life- mobile and the State and West Windsor police forces.
"Is this what dying is all about?" Mrs. Pokrywka asked herself when a tractor-trailer rammed her car from behind, driving it beneath another tractor-trailer in front of her as both stopped for a red light. "I didn't feel it was my time (to die). I wanted to live bur was so afraid."
Mrs. Pokrywka said her breathing was severely restricted as she was pinned in the front seat, which was twisted toward the roof of the car.
"I felt the oxygen being depleted from my right side," she said in a telephone interview. "I thought I would be a cripple. I told the rescuers – I am going to be a vegetable. I don't want to live.
"I was ready to give up at least twice but they wouldn't let me," she continued. "They were out there telling me not to worry. I wasn't going to die. They stayed with me the whole time."
Under the direction of Princeton Fire Chief Ray Wadsworth, rescuers used a crane from the Princeton Plasma Physics Laboratory of the Forrestal Campus to lift the track from the victim's car, laying smashed in the southbound lane.
Some of the traffic, which was backed up for about five miles, was intermittently dispersed in a northbound lane while some was redirected onto alternate routes.
"Ray Wadsworth was in charge of the whole operation," Mrs. Pokrywka said. "He wouldn't let them take any unnecessary chances. That is probably why it took so long to get me out."
Donald E. Lawrence of Hobart, Ind. claimed his brakes failed causing him to ram Mrs. Pokrywka's vehicle from behind, West Windsor police said. The self-employed trucker was charged with careless driving, failure to maintain his vehicle and lack of insurance, police said. Neither of the truckers were injured.
Through tears of gratitude. Mrs. Pokrywka said the accident has changed her attitude toward volunteer groups such as local rescue squads.
"The rescue teams were wonderful," she said. "I live in a community with the same type of services. When I used to see them in the street collecting money I thought they were a pain in the neck.
"I never thought I would need that kind of help," she continued. "You always think it happens to strangers. When it happens to you, you realize you've been kind of neglective.
"It's going to all be different," she concluded. "I realize now that if we don't give them contributions for our community services we are not going to have them. We will lose a lot of people who might otherwise live.
"To lose a life is to lose something very precious. We all have a purpose in life. We all touch someone."
---
Photo Caption:
RESCUE WORKERS attempt to free Gloria Pokrywka from her car following an accident at the Route 1 and Harrison Street intersection last Friday afternoon.
(Geri Finner photo)